Wal-Mart's fashion show previews back-to-school
By Alexandria Sage
SAN FRANCISCO (Reuters) - Wal-Mart Stores Inc presented a colorful, casual line of youthful looks for kids and teens on Saturday at a fashion show that previewed the mass-market chain's new low-cost offerings for back to school.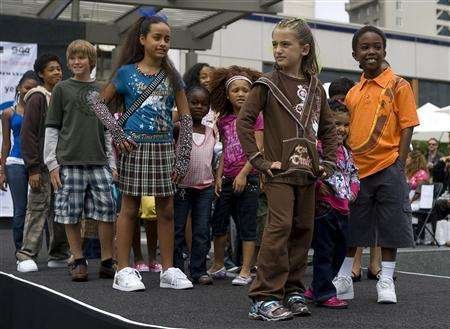 The world's largest retailer has been careful not to accentuate the fashion quotient in its clothing offerings this year ever since a disastrous push into more stylish gear in late 2005 alienated its core customers looking for basics.
Still, the company's presence at the Fashion on the Square runway show in this city's posh downtown Union Square was a nod to the importance of youth trends when it comes to selling apparel.
This year, Wal-Mart is focusing on key seasonal items for families, and showcasing young women and girls' denim brand l.e.i. from Jones Apparel Group Inc and surfer brand Op, which it has licensed from Iconix Brand Group .
Little girls in jeans and T-shirts with pink ribbons in their hair sauntered down the runway.
The image of Hannah Montana, the popular Disney television character who is a student by day but a pop star by night, emblazoned many T-shirts, whether sparkly pink, bright fuchsia, or adorned with images of silver and gold guitars.
Boys sported mismatched plaids in khakis and blues, or bright Op T-shirts in sunset colors.
Wal-Mart, one of the event's sponsors, stayed relatively under the radar at the fashion show, which included looks by other designers, including Chris March, who appeared on last season's TV reality show "Project Runway."
Only after the parade of some 30 kids and teens was over, an announcer shouted through a microphone: "It's one of their first real fashion shows so give it up for Wal-Mart!"
Two years ago, in a bid to take on competition from mass-market chains like Target Corp or Kohl's Corp , Wal-Mart began selling hipper, cheap-chic items like skinny jeans and velvet blazers.
But the push into trendier looks backfired, and left Wal-Mart with excess inventory it was forced to mark down, hurting profit margins. Moreover, the strategy seemed to fly in the face of Wal-Mart's focus on the needs of its lower-income shoppers, a focus that the retailer has since recaptured.
A Wal-Mart spokeswoman attending the show said the clothing on display showed "good value and good style for the kids for back to school."
Y'Anad Burrell, the founder and creative director of the show, now in its fifth year, said she first approached Wal-Mart looking for corporate sponsorship, but then decided to include their clothes.
"It's a fashion show," Burrell said. "Let's show some of their clothes on the runway."
Still, she acknowledged that Wal-Mart's clothing may be affordable but doesn't necessarily push the envelope when it comes to cutting-edge design.
"They're not fashion trailblazers," she said.
(Editing by Eric Beech)
© Thomson Reuters 2023 All rights reserved.