Valentino not for sale, needs to grow
PARIS (Reuters) - Valentino's owners plan to build up the Italian fashion house before selling it and are not putting out feelers to potential buyers, its chief executive said, responding to speculation a deal could be afoot.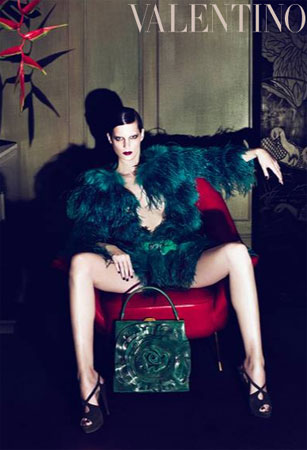 Photo: www.valentino.com
Valentino Chief Executive Stefano Sassi said its co-owners, private equity fund
Permira
PERM.UL and the
Marzotto
family, wished to see Valentino close the gap with larger rivals and pursue expansion worldwide.
Asked about media reports that Permira was looking for potential buyers for Valentino, Sassi told the Reuters Global Luxury Summit: "No. I don't think so. There is a job to be done. The recovery is just starting."
Looking at 2010, Sassi said he expected sales to rise by about 10 percent this year, driven by a very strong second half, after falling 7-8 percent last year.
He said Valentino received strong orders from U.S. wholesalers which would trickle through in the second half and the brand was also benefiting from solid demand in Asia and improved trading in the Middle East.
Sassi said Valentino aimed to lift sales to 400 million euros ($490 million) within four years from 240 million euros in 2009, partly by widening its entry-level offering and expanding its "Red" second line.
Whereas in the past it was not possible to buy a Valentino cocktail dress for less than 2,000 euros, now customers can get one for 1,000 euros, as well as 400-euro T-shirts, chic jeans and other daily ready-to-wear products, Sassi said.
"Valentino was too exclusive... Being more affordable means you are trying to get new customers on board," Sassi said. But "we are not stretching down the brand."
Valentino, known for its flowing silk chiffon dresses favored by Hollywood stars, has struggled to find a new voice after parting ways with founder and designer Valentino Garavani in 2008.
The fashion house's artistic direction has been slowly regaining the hearts of fashion critics under Pier Paolo Piccioli and Maria Grazia Chiuri, the label's designers for the past two years.
FURTHER EXPANSION
Valentino owns 75 shops around the world and sells in another 35 shops through partners who buy its wares wholesale.
Sassi said the fashion house planned to open five shops in China this year, one in Europe, one in the U.S. and one in Japan.
Asked about Dubai, Sassi said its partners in the Middle East luxury capital felt trading was improving after a difficult 2009 and that the brand was considering expanding.
"The Middle East is our number 2 target market after China," Sassi said.
Control of Valentino was acquired by Permira in 2007 at the top of the market when it was part of the Valentino Fashion Group (VFG), which also included Hugo Boss (BOSG_p.DE).
In December, hit by the downturn, VFG had to restructure its debt and Permira, together with the Marzotto family, placed Hugo Boss in a separate entity together with the debt attached to it and injected fresh cash into its businesses.
($1=.8163 Euro)
(Additional reporting by Pascale Denis; Editing by Louise Heavens)
© Thomson Reuters 2023 All rights reserved.