Ungaro hires Lindsay Lohan for fashion "electro-shock
PARIS (Reuters) - Actress Lindsay Lohan has teamed up with fashion house Emanuel Ungaro to give the aging brand an "electric shock," its president said on Wednesday 9 September.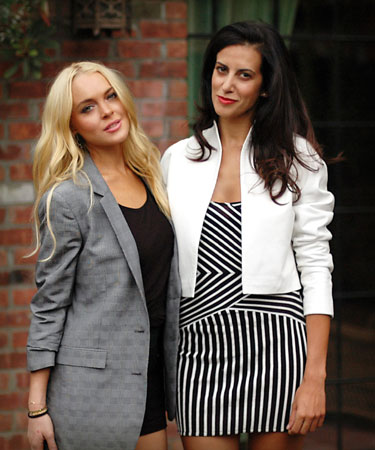 Lindsay Lohan et Estrella Archs
Lohan's role as "artistic adviser" will be to feed ideas to newly appointed chief designer
Estrella Archs
, Ungaro's president Mounir Moufarrige told Reuters in a phone interview.
"She's a super consumer and super consumers have ideas to contribute to the elaboration of a collection," he said. "The brand is getting an electro-shock treatment."
The first collection will be unveiled on October 4.
Lohan is known for her love of fashion and shopping, but over the past two years her creative endeavors have been eclipsed by drinking and drug problems.
The 23-year-old was briefly jailed in 2007 after being convicted of drink driving and cocaine possession, and made to wear an electronic monitoring ankle bracelet.
Moufarrige said he was not worried about Lohan's reputation. "With the pressure they live under, especially those of a younger age - I don't know any celebrities with no controversy," he said, speaking by phone from New York.
"Marilyn Monroe, Marlene Dietrich, they all had controversies, and anyway fashion is always controversial. I'm not bothered."
Lohan has been trying to rebuild her career, starring in a TV movie and launching a new production company. Her previous ventures in fashion included a range of leggings that featured details such as padded knee-caps, eliciting mixed reviews from fashionistas.
Moufarrige pointed out that fashion editors continue to put Lohan on the covers of the world's top style magazines. He said he took his cue from them. "She has ideas - what she would wear, what her friends would wear."
It is not the first time Moufarrige has grabbed headlines with a hiring decision; as president of
Chloe
, he replaced
Karl Lagerfeld
with
Stella McCartney
, who was 25 years old at the time.
And he was frank about the marketing boost he expects from Lohan, whose career and private life are followed by millions of celebrity watchers. Ungaro, like many other classic fashion brands, has been struggling to attract a younger clientele.
"I enjoy doing the fast lane. I think this provides us with a new visibility level, I hope this will rejuvenate the brand. This brand has always been great, but a lot of famous brands have aged with their designers and needed to be resurrected.
"I expect much more interest and in the end I'm in the business of making money, I'm not interested in just making a fashion statement."
By Sophie Hardach
© Thomson Reuters 2023 All rights reserved.