Titan's second quarter profit may dip as high gold prices weigh
MUMBAI (Reuters) - Watch and jewellery retailer Titan Industries Ltd's July-Sept net profit is likely to dip despite an increase in revenue as high gold prices hurt demand for jewellery products.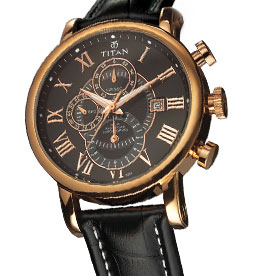 Titan - Orion series, Alpha
Titan's quarterly profit may fall 14.4 percent to 746 million rupees, while its total sales may rise modestly to 11.68 billion rupees, a Reuters poll of brokerages showed.
Analysts said high gold prices in India would result in a decline in volumes of Titan's jewellery business.
"Titan has a stable and niche business model. However, the recent run-up in gold prices can negatively impact its earnings, due to a consequently low demand," Angel Broking said in a report.
High gold prices during the quarter would result in volumes declines in jewellery business, Bank of America-Merrill Lynch said in a report.
India gold prices rose more than 8 percent in July-Sept, touching a high of 16,009 rupees in the quarter, compared with a fall of 4.5 percent in April-June, data showed. Gold hit a record high of 16,048 rupees in October.
Titan sells jewellery under its premium 'Tanishq' brand and 'Goldplus'- a rural and semi-urban chain.
However, sales of its watches are expected to fare better in the quarter. The company sells watches under several brands including its premium brand Titan and economy brand Sonata.
"We expect mid single digit sales and PBIT (profit before interest, taxes) growth in watches," Motilal Oswal said in a note.
Operating margins are expected to fall 150 basis points due to a mid-single digit decline in jewellery volumes, the brokerage said.
Titan will not be impacted due to the poor monsoon that prevailed through much of July-Sept and instead high gold prices will be its main concern, Angel Broking analyst Viraj Nadkarni said.
"How they cope with these high prices remains to be seen," he said.
Titan's watch segment is expected to perform well due to the revival in India's retail segment, but the jewellery segment accounts for more than 70 percent of the firm's total sales, Nadkarni added.
Titan is scheduled to report quarterly earnings on Oct 23.
(Reporting by Aniruddha Basu; Editing by Prem Udayabhanu)
© Thomson Reuters 2022 All rights reserved.