Ted Baker sales growth slows in Q3, cautious on Q4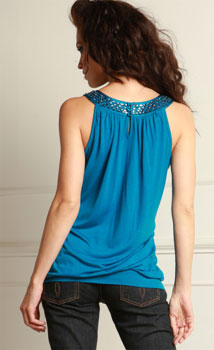 Ted Baker fall-winter 2008/2009
* Q3 revenues up 1.8 pct
* FY wholesale sales fall to be close to H1 decline
* Cautious about Q4 trading
(Adds detail)
LONDON, Nov 13 (Reuters) - British fashion label Ted Baker reported a slowdown in sales growth in the third quarter of its financial year, hit by a big drop in wholesale sales, and said it was cautious about prospects for the fourth quarter.
The firm, with stores in the UK, United States, continental Europe, the Middle East and Asia and also present in department stores, said on Thursday its revenues rose 1.8 percent in the 13 weeks to Nov. 8 compared with the same period the year before.
Revenues were up 8.2 percent in the 28 weeks to Aug. 9.
Retail sales were up 13.3 percent in the third quarter, compared with a 17.5 percent rise in the first half, while wholesale sales were down 21 percent, accelerating a first-half decline of 12.1 percent.
"(This was) partly due to the later phasing of deliveries but also reflecting the challenging trading conditions being experienced by our customers," Ted Baker said in a statement.
The firm had previously said full-year wholesale sales would fall compared with the year before.
It said on Thursday it expected the fall would be "closer to the trend of the first half, which was 12.1 percent below the level of the previous year".
"Our brand is well positioned and our Autumn/Winter 2008 collections have been well received by our customers. However, the current economic difficulties must make us cautious about trading for the remainder of the financial year," it said.
Ted Baker said third-quarter gross profit margins were in line with expectations.
Its shares closed at 312 pence on Wednesday, valuing the business at about 132 million pounds ($204 million).
(Reporting by Mark Potter; Editing by Mike Nesbit)
© Thomson Reuters 2023 All rights reserved.