Target, Pershing square off in RiskMetrics forum
CHICAGO, May 14 - Target Corp (TGT.N) and Pershing Square Capital Management sought to win over investors on Thursday 14 May, each once again outlining why it believes its nominees are best for the retailer's board.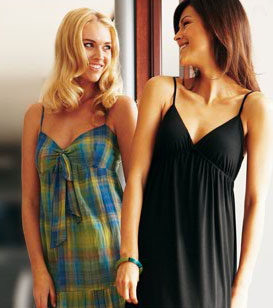 Target Corp Womenswear Spring-Summer 2009
Target and Pershing, the hedge fund run by William Ackman, have waged a proxy battle for weeks. Corporate governance firm RiskMetrics moderated a call on Thursday 14 May with presentations from Target, which stands by its current board, and Pershing, which has nominated five board members, including Ackman.
RiskMetrics is likely to issue an opinion on the proxy contest on May 19. Shareholders sometimes use opinions from the firm to decide how to vote in a proxy fight.
And in a twist to the running battle, Proxy Governance Inc -- an independent proxy advisory and voting firm -- weighed in against Target management, urging shareholders to turn down their proposal and endorse new members of the board.
During the RiskMetrics call, Ackman and three of his fellow nominees outlined their position that Target needs some new voices in order to make changes for growth. Target is Pershing Square's biggest single investment and Ackman lost a lot of money last year as its shares fell.
"In my opinion, and this is my miss, I expected Target to succeed in the way that Wal-Mart has during the course of the recession. We want to own a business that doesn't just do well during the greatest credit expansion our country has ever experienced, but also during a difficult recession," Ackman said.
Target stuck by its company's long-term performance and said its current board members are very engaged.
"We do not believe that change in our board member composition is necessary nor in the best interest of our shareholders," Target Chief Executive and Chairman Gregg Steinhafel said during the call.
Shareholders are set to vote at Target's annual meeting on May 28.
Shares of Target rose 1 cent to close at $40.48 on the New York Stock Exchange. (Reporting by Jessica Wohl; Additional reporting by Nicole Maestri in San Francisco; Editing by Richard Chang, Leslie Gevirtz)
© Thomson Reuters 2021 All rights reserved.