Talbots, AnnTaylor struggle on sales
By Brad Dorfman
CHICAGO (Reuters) - AnnTaylor Stores Corp and Talbots Inc, retail chains that cater to women professionals, plan to further restructure their operations after posting sharp declines in quarterly sales on Thursday.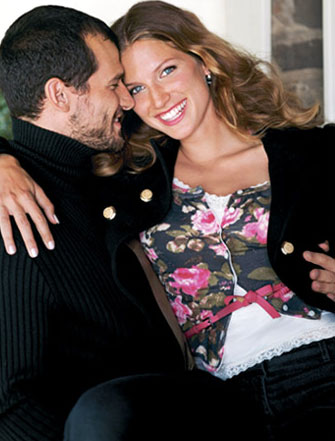 Ann Taylor Loft collection 2008
AnnTaylor said it would expand a restructuring program to cut even more jobs and plans to significantly cut back capital spending in 2009 because it expects consumers to keep a tight hold on spending into next year. The company posted a quarterly drop for sales at stores open at least a year of 19 percent and slashed its third-quarter earnings forecast.
Talbots pulled its financial forecast altogether after reporting a 13.9 percent drop in quarterly same-store sales. It now plans to sell the J. Jill brand it bought a little more than two years ago, and instead focus on its namesake brand.
"Talbots has decided to sell the J. Jill brand, but we fear there will be no buyers," Credit Suisse analyst Paul Lejuez said in a research note. "In addition, the core Talbots business continues to struggle, making a turnaround look unlikely."
Womens' apparel retailers have struggled for more than a year due to a U.S. economic slowdown, often performing worse than the wider retail sector. Those trends have intensified since September, when a financial crisis erupted and threatened to plunge the global economy into deep recession.
Many of their shoppers have cut spending on themselves before sacrificing purchases for their families, while a lack of compelling fashion in some stores kept others away.
AnnTaylor shares fell 25 percent to $9.02, while Talbots lost 10 percent to $6.79.
AnnTaylor said it now expects break-even earnings in the quarter, excluding one-time items, down from its August forecast of 50 cents to 55 cents a share. Analysts on average forecast earnings of 46 cents a share, according to Reuters Estimates.
"Although we had suspected that comps were weak (as they have been across the women's sector), the third-quarter earnings revision was somewhat shocking," Lejuez said, adding that the fourth quarter will also be "very challenging."
The company, which is already in the midst of a reorganization with plans to close 117 stores and cut up to 13 percent of headquarters staff, said it would eliminate additional jobs and make other cost cuts.
Talbots, which is majority owned by Japan's Aeon Co , pulled its previous forecast for the second half of its fiscal year, saying it was no longer applicable, given the current economic environment and the plan to sell J. Jill.
(Editing by Phil Berlowitz)
© Thomson Reuters 2023 All rights reserved.