Patagonia opens a re-sale store on eBay
The sale of second-hand merchandise has been the province of the internet heavy-hitter eBay. So far, individuals and companies who specialize in resale turned there to offer used goods for sale. However, Patagonia has just broken a taboo: in the last several days, the brand has begun to offer second-hand merchandise on its eBay marketplace.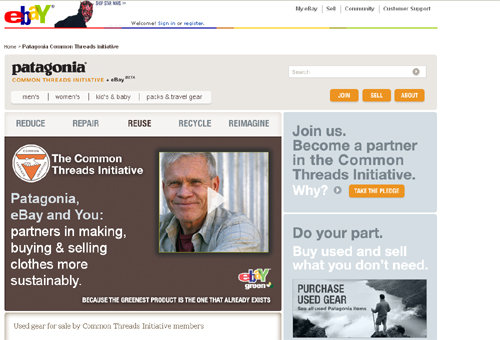 On its E-Bay store, Patagonia encourages its customers to reduce their consumption, to repair their items, to sell them or to donate and recycle them. - Image from eBay site
The clothing and mountain-sport brand of was already a pioneer in the recycling of textile products. It has now gone a step further with this partnership with the American giant, espousing the rationale that "the greenest product is that which already exists." Patagonia thus encourages its customers to sell the brand products they no longer use and to buy used merchandise. For that which is un-usable, it offers a recycling service to which the items may be sent.
The online eBay store is the first of its kind and part of Patagonia's global project called the Common Threads Initiative, whose aim is to reduce the brand's environmental footprint. The basic idea is to experience the product for as long as possible, through its repair, resale or barter before finally recycling it when it is no longer usable. For now, the eBay store is available only for the U.S. market.
Copyright © 2023 FashionNetwork.com All rights reserved.