P&G admiration gives Beiersdorf a boost
FRANKFURT, Sept 29 (Reuters) - Procter & Gamble's (PG.N) chief executive caused a spike in Beiersdorf (BEIG.DE) shares on Wednesday with admiration for its Nivea skin cream brand and musings about a takeover in the right circumstances.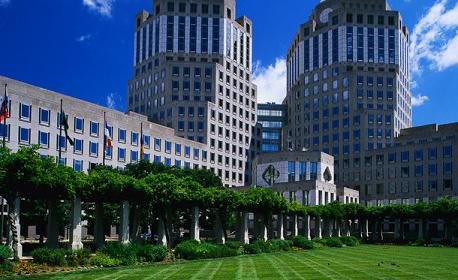 P&G headquarters. Photo : Corbis
Bloomberg quoted Robert McDonald, CEO of the U.S. household products giant, as saying Nivea was a "terrific global brand" during a trip to Romania on Wednesday, and he would look at buying the German company if it wanted to be bought.
"The price and the contract would have to be right," he added.
Shares in Beiersdorf jumped as much as 10 percent to 47.12 euros, but gave up some of that after a U.S. spokesman for
P&G
, which makes
Olay
skin creams and Crest toothpaste, said it was primarily focused on organic growth and was unlikely to make large acquisitions.
"We don't make hostile bids. Companies must be available for sale before we would engage in an acquisition process," he added.
Beiersdorf shares ended up 4 percent at 44.50 euros. P&G shares were 0.5 percent lower, underperforming the Dow Jones industrial average .DJI, which was down 0.1 percent.
This is not the first time P&G has caused a stir around Beiersdorf; Germany's billionaire Herz family bought just over half of Beiersdorf in 2003 to slap down any thoughts of takeover after a previous P&G CEO told a German magazine the company was "very attractive".
Two people close to the Herz family investment vehicle Maxingvest told Reuters on Wednesday the family was not looking to sell.
"Everybody is always talking to everybody in our industry, but there is no evidence whatsoever that the family is willing to sell its Beiersdorf stake," one of the sources said.
Maxingvest declined to comment.
Beiersdorf has a market value of 10.79 billion euros ($14.7 billion), dwarfed by P&G's towering $173.2 billion.
"If you look at (P&G's) leverage ratios now, they certainly have the capacity to make acquisitions," said Jefferies & Co analyst
Douglas
Lane.
"Financially, it wouldn't be a reach."
NIVEA MEETS OLAY
P&G, which also makes
Max Factor
makeup and DDF skin cream, is no stranger to major acquisitions, and it generated about $14 billion in cash on an adjusted basis in the fiscal year to end-June.
It spent $57 billion to buy razor maker
Gillette
in 2005, and bought German consumer products firm Wella for more than 4.5 billion euros in 2003.
"Certainly Nivea is a big global brand in the category that they're interested in, although (P&G) ... have Olay," Jefferies & Co's Lane said.
Beiersdorf, which was founded over a century ago, generated sales of 5.79 billion euros last year, with weak organic growth as consumers hit by the global economic crisis turned to less expensive beauty products.
($1=.7347 Euro) (Reporting by Maria Sheahan, Arno Schuetze and Josie Cox in Frankfurt, Emily Stephenson in Chicago; Editing by Will Waterman)
© Thomson Reuters 2023 All rights reserved.