Naomi Campbell in quest to help Russian children
MOSCOW (Reuters Life!) - Naomi Campbell's love for Russia has inspired the British supermodel to raise money for the country's underprivileged children, she said on Monday 26 April.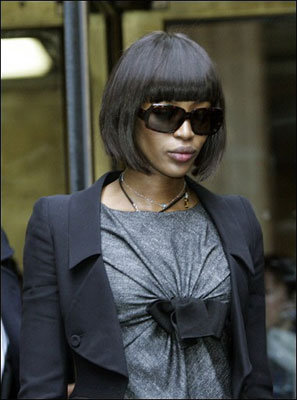 Naomi Campbell - Photo : Timothy A. Clary/AFP
"I'm living here... everyone has been very nice to me and welcoming and I wanted to give back," a smiling Campbell, 39, told Reuters in an interview in the Russian capital.
Spending part of the year in Moscow with her Russian boyfriend and property mogul Vladimir Doronin, the model has become a regular fixture at the city's fashion shows and elite boutiques, sometimes clad in Russian-designed frocks.
Though she has a history of brushes with the law in the West, she is much-loved by Russia's champagne-quaffing new rich and is the first major foreign star to live in the country.
In late May Campbell hopes to raise at least $1 million at her fundraiser, called NEON, for two Russian charities which provide education, medicine and training for children.
The money will be split between The Iris Foundation, run by Daria Zhukova, her friend and the girlfriend of Russian billionaire Roman Abramovich, and Northern Crown, managed by the wife of Russian Finance Minister Alexei Kudrin, Irina.
Sculptures by British artist Antony Gormley and works by U.S. painter Richard Prince will be auctioned with other pieces of art by London's
Sotheby's
at the event.
Zhukova, an established Moscow socialite who runs the sleek Moscow gallery 'Garage', will attend, along with a slew of international fashion stars and Britain's Duchess of York, Sarah Ferguson.
"I love doing things with kids.... I think what's great is that Moscow will be the first," said Campbell, brushing back her thick black hair which touched the top of a white t-shirt supporting NEON.
She added that she hopes to take NEON to other countries after Russia.
(Writing by Amie Ferris-Rotman, editing by Paul Casciato)
© Thomson Reuters 2023 All rights reserved.