Mothercare steps up overseas growth as UK lags
LONDON, Oct 14 (Reuters) - British mother and baby goods retailer Mothercare (MTC.L) is stepping up expansion overseas where growth is helping to offset a fall in underlying sales in its home market.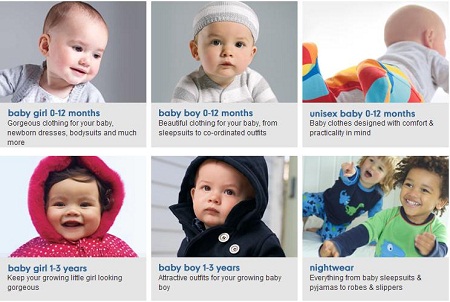 Mothercare's baby clothing offer
Mothercare, with more than 1,200 stores in 53 countries, said on Thursday it would open at least 150 stores this financial year, up from its previous target of at least 100.
Worldwide sales rose 7 percent in the 13 weeks to Oct. 9, the company's second quarter, or 7.5 percent in the first half, with overseas retail sales overtaking British retail sales for the first time.
International sales were up 14.2 percent in the second quarter, down from 20.3 percent in the first.
Chief executive Ben Gordon said this was due largely to the timing of the Moslem festival Eid, and wildfires around Moscow in August, adding international sales had returned to their more normal growth rate of about 20 percent in recent weeks.
Sales at British stores open at least a year fell 3.2 percent in the second quarter after a 4.1 percent decline in the first three months.
Arden Partners analyst Nick Bubb was unimpressed. "The UK is not quite as bad as it was in Q1 ... but it is not exactly great, whilst overseas growth is flagging," he said.
At 0836 GMT, Mothercare shares were down 2.13 percent at 505 pence, one of the biggest losers on the UK mid-cap index .FTMC which was up 0.23 percent.
Gordon said he was cautious about the outlook for British shoppers as the government raises taxes and cuts public spending to reduce its debt.
But he had high hopes for Mothercare's new clothing partnership with health and beauty retailer
Boots
, as well as a property strategy which is seeing it open larger Parenting Centres and closing smaller, less profitable in-town stores.
He also said new products such as Mothercare Spin pushchairs were selling well, and tipped the new Superstar Cool Keyboard and a relaunched Big City Garage as popular toys for Christmas.
Mothercare shares have lagged Britain's general retail index .FTASX3780 by 33 percent this year, hit by its warning in July that profit margins would suffer from price cuts and promotions as it seeks to attract cash-strapped shoppers.
(Editing by David Cowell and David Hulmes)
© Thomson Reuters 2023 All rights reserved.