Marc Jacobs settles with NY over improper payments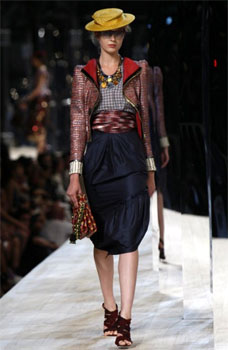 Marc Jacobs - Spring-summer 2009
NEW YORK (Reuters) - Top fashion designer Marc Jacobs' company agreed to pay New York state $1 million for improper payments made to secure a venue to hold fashion shows, the New York attorney general's office said on Wednesday.
The agreement stems from payments made from 2000 to 2007 by Marc Jacobs International, through an agent, to the former superintendent of the 69th Regiment Armory in exchange for use of the armory's drill hall.
James Jackson, 57, who ran the armory for over eight years, has pleaded guilty to grand larceny for demanding payments from armory exhibitors over an eight-year period, including about $35,000 in cash and goods from Marc Jacobs.
"New York City is a global epicenter for fashion and cultural events, and we will not allow corruption and greed to tarnish one of our most lucrative industries," Attorney General Andrew Cuomo said in a statement.
"Marc Jacobs' executives cooperated fully with the office of the attorney general and today's agreement resolves the investigation with respect to Marc Jacobs," the office said.
As part of the agreement, Marc Jacobs has agreed to retain a private monitoring agency for two years that will review operations and report to the attorney general.
"We are pleased that this matter has been resolved. We have already taken and will continue to take steps to avoid incidents of this nature in the future," a spokesperson for Marc Jacobs International said.
The armory, a national historic landmark, has been the headquarters of New York's "Fighting 69th" infantry regiment since 1904. It continues to be a home for other military units deployed in Afghanistan and Iraq.
Jackson is scheduled to be sentenced on December 15, and faces a maximum sentence of 15 years.
(Reporting by Edith Honan, editing by Daniel Trotta and Vicki Allen)
© Thomson Reuters 2022 All rights reserved.