Maison Martin Margiela signs license with Cutler and Gross
Maison Martin Margiela and Cutler and Gross take their first steps together in the licensing of sunglasses. The collection based on "irreverential design and hand-made quality" will be presented at Silmo 23-26 September.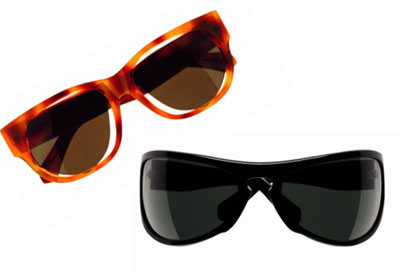 Line 8 - Sunglasses Collection by Maison Martin Margiela available from November
Without specifying the exact length of the agreement, it was said to be "long-term". The creative direction of the collections, entitled "Line 8" will be led by Maison Martin Margiela. Since the departure of its founder, the style is in the hands of the studio, with no specific leader appointed. As for the production ("handmade in Italy") and distribution (in a few select Cutler and Gross outlets and in all of MMM's shops); both processes will be overseen by Cutler and Gross.
To test the market, ten designs will be available, grouped within two ranges: 'anatomic' (an enlarged rounded shape covering the full visual field) and 'wrong size' (a geometric play on lenses seemingly ill-fitting the frame). All available from November.
Founded in 1988, Maison Martin Margiela has been wrapped up in the hands of
Renzo Rosso
since 2002, the owner of
Diesel
. Thus, after the perfume "Untitled" was presented earlier this year with much hype, the brand continues to expand its product range to establish itself as a "well-rounded" brand.
Copyright © 2023 FashionNetwork.com All rights reserved.