Maison Martin Margiela presents interior design in Milan
Martin Margiela has taken advantage of the Salone Internazionale del Mobile in Milan, from 22-27 April, to present his interior design ideas. Maison Martin Margiela has also confirmed its desire to become a lifestyle brand.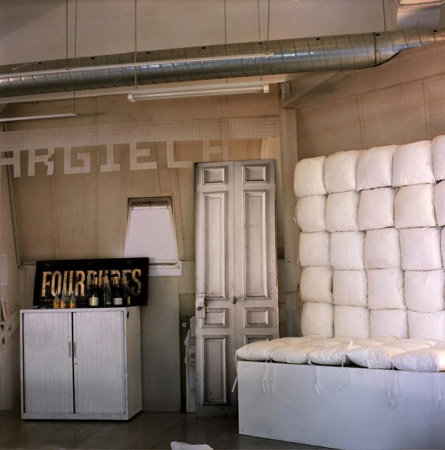 View of the installation "Mat, Satiné, Brillant" in Milan
Fans already celebrate the opening of each new boutique, in which the style changes each time. From now on they will offer items created by the Belgian designer to decorate or furnish their interior space.
This evolution began in Paris with "La Suite ELLE Décoration"; installed within the Centre for Architecture and Heritage in Paris, and still present today.
With the opportunity to present at the Salone Internazionale del Mobile in Milan, Martin Margiela is confirming his desire to act globally.
Entitled "Mat, Satiné, Brillant" (Matt, Satin, Gloss), it presents all the know-how and original vision of the house, based on diversion and displacement. Built on a site of 180 square metres, the space offers visitors the chance to penetrate a site copying the environment of the brand's Parisian headquarters. That is, the Holy of Holies where all concepts for boutiques, worldwide showrooms and other projects are designed.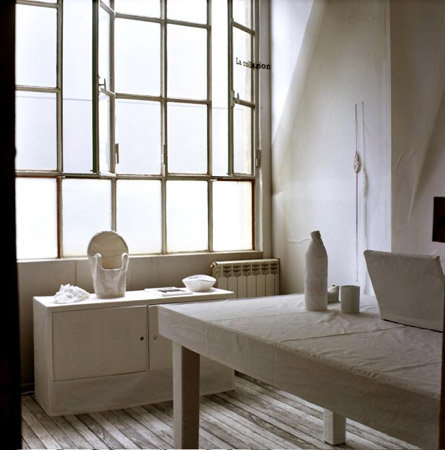 View of the installation "Mat, Satiné, Brillant" in Milan
Certain items are reproduced in exact imitation of the office of the architects in Paris: telephones, computers, furniture upholsters in white cotton, black and white lino on the floor – aping the wood in the Los Angeles boutique and from La Suite ELLE Décoration – even the ceiling gives the illusion of the beams from the Paris office… everything is there.
Also, you'll find a pyramid of white plastic champagne glasses, a table recovered in white material and even the famous birthday cake celebrating the twentieth birthday of the house. On top of this there are furnishings, carpets, lamps, lights, pens… Mat, Satiné, Brillant reveals the entire world of Margiela.
The icing on the cake; all these ideas should soon be offered to the general public. Everything will be distributed by very select locations, like the other products from Maison Martin Margiela. As part of this development, partnerships and limited edition items will be created soon.
By Jonathan Fulwell (Source: Céline Vautard)
Copyright © 2023 FashionNetwork.com All rights reserved.