LVMH exec Bazire probed in French kickback case
PARIS, Sept 22 (Reuters) - An executive and director at the world's biggest luxury goods maker LVMH was placed under investigation on Thursday in an inquiry into alleged kickbacks paid to politicians from arms sales to Pakistan.
Nicolas Bazire, also a personal friend of President Nicolas Sarkozy and a past government aide, was arrested on Wednesday over allegations that he took delivery of kickbacks in the so-called "Karachi Affair".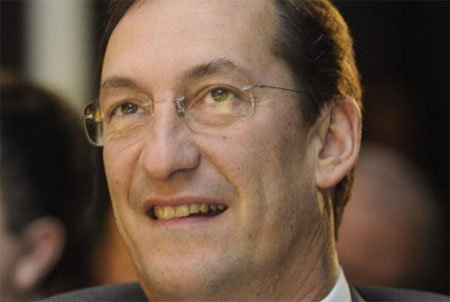 Nicolas Bazire © MaxPPP
His involvement was further sign of how closely the worlds of French business and politics intersect, with its government and financial elites often rubbing shoulders at the same top schools and then later jumping between public and private sectors.
The case involves alleged commissions linked to submarine sales to Pakistan that prosecutors believe helped finance the presidential campaign of former prime minister Edouard Balladur in 1995, when Bazire was his chief of staff.
Bazire, who was a witness to Sarkozy's wedding with Carla Bruni in 2008, is also a longtime lieutenant of LVMH boss Bernard Arnault. He runs the luxury tycoon's private holding company Groupe Arnault and sits on the executive board of LVMH, in charge of development and acquisitions.
Arnault, France's wealthiest man and also regarded as a friend of Sarkozy, has many friends in the world of politics. Patrick Ouart, a former French magistrate and justice advisor to Balladur, is a member of LVMH's executive committee as advisor to Arnault.
LVMH on Thursday distanced itself from the affair.
"This matter has strictly no link and no relation to the functions M. Bazire holds at LVMH," a spokesman for LVMH said, adding that Bazire was under no travel restrictions from French investigators.
NOT INVOLVED
Shares in the owner of brands including clothing and leather goods maker Louis Vuitton and champagne maker Moet & Chandon were down 6.3 percent, though analysts blamed a wider rout in luxury goods stocks.
Bazire's lawyer Jean-Yves Lienard said his client would be able to explain himself soon.
"A hearing shortly will show that he (Bazire) is absolutely not involved, whether in the conception or in the implementation of these contracts, at whatever level," Lienard said.
He added that at no point was the name of Nicolas Sarkozy mentioned by anybody.
Another friend of the French president, Thierry Gaubert, was placed under investigation on Wednesday on suspicion that he carried cash kickbacks from the submarine sales back to France in suitcases.
Bazire, a graduate from the prestigious ENA school, the French establishment alma mater, built up a powerful address book within both political and business circles.
After his time as head of cabinet of Balladur between 1993 and 1995, Bazir joined the bank Rothschild & Cie in charge of mergers and acquisitions. Bazire also sits on the board of French retailer Carrefour as a non-independent director. Groupe Arnault and Colony together own 14 percent of Carrefour. (Reporting by Gerard Bon, Pascale Denis and Astrid Wendlandt; Editing by Christian Plumb and Will Waterman)
© Thomson Reuters 2023 All rights reserved.