Groupon plans bigger holiday push this year
Nov 14 (Reuters) - Groupon Inc (GRPN.O) is trying to grab a much larger share of consumers' holiday spending this year following the biggest daily deal company's initial public offering.
Groupon launched its first holiday shopping push last year. Grouponicus, as it is known, offered discount deals in 15 cities last year. This year, Grouponicus will target 41 cities in the United States and Canada, including New York, Los Angeles and Dallas.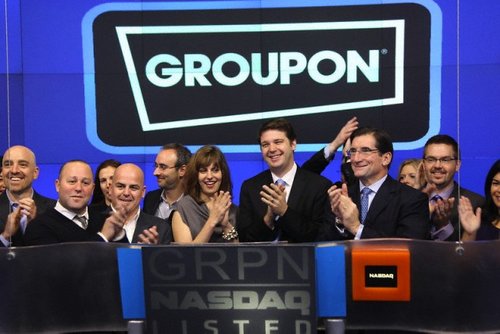 Andrew Mason, the CEO of Groupon, and Groupon employees at the NASDAQ market site in Times Square following Groupon Inc's initial public offering and listing on the NASDAQ in New York, New York, USA, 04 November 2011.
In 2010, Groupon focused on smaller deals, but this year the company will offer bigger-ticket items.
Groupon plans to offer so-called "Epic Deals" starting Nov 15. These will be specific experiences, such as a round-the-world trip and a cooking class and group dinner with Chef Todd English.
Groupon also plans to offer a national deal with retailer American Apparel Inc (APP.A), as well as discounts on products like electronics, home goods and fitness products.
"We learned a lot from last year," said Aaron Cooper, chief of gifting at Groupon.
Groupon's main business -- offering big discounts on local services and products and splitting the revenue with merchants -- was criticized as the company traveled a tortured road to being a public company earlier this year.
The company pulled the IPO off, raising at least $700 million in an offering that valued it at around $15 billion. If Groupon has a big holiday season, that could help support its shares in its crucial first few months as a public company.
In another change, Grouponicus holiday offers will show the value of the service on a voucher given as a gift, rather than the price paid.
"Going into the holiday season, Groupon may get used for gift giving which could boost the numbers," said Fred Moran, an analyst at The Benchmark Co.
Some other, more established e-commerce companies are also offering daily deals this holiday season.
eBay Inc (EBAY.O) plans 25 days of deals starting Nov 21. The company will offer discounted products on its website and will send one "deal blast" a day to customers via email.
On "Black Friday" and "Cyber Monday," eBay plans five deal blasts on each of those days.

(Reporting by Alistair Barr; Editing by Tim Dobbyn)
© Thomson Reuters 2023 All rights reserved.