Gaultier and Valentino appeal to crisis spirit
By Astrid Wendlandtand Mathilde Gardin
PARIS (Reuters) - Wartime movie-star suits at Jean-Paul Gaultier and delicate black dresses at Valentino wrapped up the season's haute couture shows in Paris on Wednesday 8 July.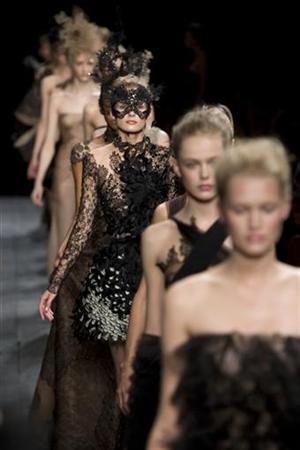 Several couturiers staged pared-down catwalk shows or even scrapped them altogether, opting for simple presentations, as even the highest echelons of fashion felt the global economic downturn.
Amid the gloom, Gaultier sounded a defiant note.
"For thirty, forty years ... one has been talking about the funeral of haute couture ... find solutions ... and put even the most basic things into question," he said, presenting his 2009-2010 winter collection inspired by 1930s and 1940s movie stars watched by Australian singer Kylie Minogue, U.S. actor Mickey Rourke and French designer Sonia Rykiel.
"But the crisis is the time when one should create new ways of doing things," said Gaultier, a central figure in the Paris fashion scene for more than two decades.
At Valentino, designers Maria Grazia Chiuri and Pier Paolo Piccioli presented their second collection for the house, which will always be associated with their predecessor Valentino Garavani's dramatic red gowns.
They opted for black dresses lightened by ruffles, lace and cascades of mousseline in a collection inspired by "fragile and dangerous" femininity.
A LITTLE HELP FROM HIS FRIENDS
French couturier Franck Sorbier put on a much more limited show, and even dipped into his stocks of ribbons and fabrics to pull together the collection despite the crisis.
He used only 10 models posing as tableaux vivants in bustier dresses or long velour coats.
The fate of Christian Lacroix, whose label was placed under creditor protection more than a month ago and who stitched together a small couture show with the help of friends and dressmakers who worked for free, was on everyone's mind.
"Haute couture is the speedboat that pulls the whole fashion world," said French actress Josiane Balasko, sitting a few seats away from model and designer Ines de la Fressange.
Look-alikes of Louise Brooks, Lauren Bacall and World War Two French actress Micheline Presle strutted down the stage in broad-shouldered black suits and aviator-style raincoats and dresses adorned with furs.
Gaultier, who designs women's wear for luxury group Hermes, used the same 1930s soft leather caps he showed this spring with his collection for Hermes, which in turn owns 45 percent of Jean-Paul Gaultier.
Gaultier remained faithful to his own classics such as sailor-style trousers combined with a striped top and loosely fitting overalls, this time in crocodile skin or gold lame, with fox pelts dangling over the shoulders.
"There will always be a clientele looking for a one-of-its-kind piece," said Suzanne Saperstein from Los Angeles, a major buyer of French couture.
(Additional reporting by Sophie Hardach; Editing by Andrew Dobbie)
© Thomson Reuters 2023 All rights reserved.