Ebay liable for LVMH fakes
The Paris Court of Appeal finds eBay liable for selling on its websites, between 2001 and 2006, counterfeit Louis Vuitton and Christian Dior products as well as Guerlain, Givenchy and Kenzo perfumes in violation of the selective distribution networks put in place by these brands.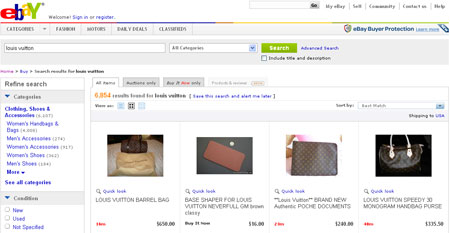 Ebay search results for Louis Vuitton
The ruling confirms the decision by the Paris Commercial Court on June 30, 2008, which established the principle of eBay`s liability for engaging in the sale of counterfeit products as well as products reserved for selective distribution. This decision also dismissed eBay`s claim for exemption on the ground that it was acting as a mere provider of hosting services.
In addition, the Court prohibits eBay from direct or indirect violation of selective distribution networks in the future.
Friday`s ruling further orders eBay Inc. and eBay AG to pay penalties amounting to 5.7 million Euros. It also gives the possibility for the claimants to seek redress before foreign courts for damages suffered in their jurisdictions.
LVMH welcomes the establishment of this case-law, which constitutes a major step in the further protection of consumers.
Rules applicable to e-commerce are now clear in order to prevent illicit online practices and to ensure greater legal certainty to the benefit of consumers operating online.
Copyright © 2023 FashionNetwork.com All rights reserved.