Dior says to keep John Galliano brand going for now
French fashion house Dior on Sunday said it planned to continue supporting the eponymous label of John Galliano, its star designer fired this week over alleged anti-Semitic remarks.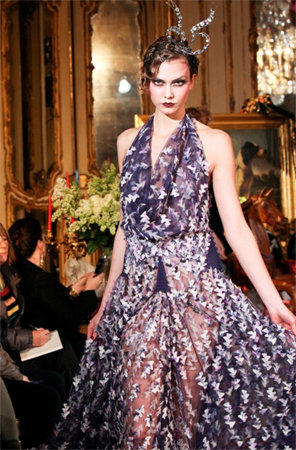 Dress from John Galliano's A/W 2011 collection at Paris Fashion Week
Dior's parting with Galliano, after an online video clip showed him expressing admiration for Adolf Hitler, had raised questions about the future of the John Galliano label, which is 92 percent owned by Dior.
"For the moment, the (John Galliano) business continues," Dior Chief Executive Sidney Toledano told Reuters.
"This is a business which has licenses and tomorrow we will show the collection in the showrooms as usual... I am here to prove that business goes on... and to support the teams."
While Toledano said it would continue to support the Galliano label financially, it remains unclear how long Dior's commitment will last without the designer. Without Dior, the John Galliano brand, which barely breaks even, would not survive.
Toledano was speaking just before the John Galliano show, hastily put together after it was downgraded from a runway event in La Coupole brasserie to a presentation in an plush Paris mansion with gilded moldings and crystal chandeliers.
The John Galliano brand is sold mainly through license distributors such as Gibo for the first line and Ittierre for the second line and found mainly in department stores.
Critics, friends and buyers but no celebrities came to view the show which included see-through flounced dresses and sharply cut woolen suits with fur collars and strapping high heels fitted with tiny dangling chains.
Friday, Dior put on its own show without Galliano, who is due to stand trial in Paris before the end of June over accusations he made racist remarks in public.
Galliano, who denies the charges, has left France to get treatment for alcohol-related issues, people from his entourage have said.
Toledano Sunday declined to comment on who will replace Galliano at Dior.
Fashion critics said Galliano's theatrical style no longer fitted society's more sober and conservative mood after the financial crisis.
Celine
, part of the
LVMH
group like Dior and Galliano, showed Sunday what buyers seem to want. The collection included minimalist woolen dresses, button-less winter coats with white turtlenecks and mixed-color fur coats.
"There were a lot of reduced things so they felt very clean," Celine's creative director
Phoebe Philo
, named British Fashion designer of the year in December, told Reuters.
By Astrid Wendlandt
(Editing by Matthew Jones)
© Thomson Reuters 2022 All rights reserved.