CWF is worldwide licensee of Little Marc Jacobs
Already considered an international leader in children's fashion, with an impressive portfolio containing seven well-known brands (Chloé, DKNY, Burberry, Boss, Elle, Timberland and Girbaud), Children Worldwide Fashion (CWF) is now taking a new brand under its wings: Little Marc Jacobs, from the Marc Jacobs International group (subsidiary of LVMH). The contract with the brand's previous licensee, the Zannier Group, has just ended after 5 years.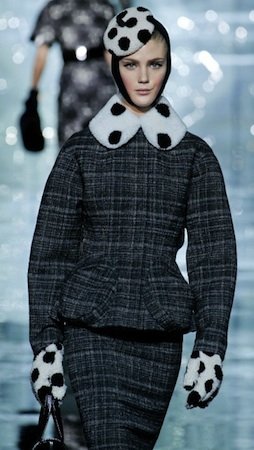 Marc Jacobs Fall-Winter 2011/2012 womenswear collection (Photo: Pixel Formula)
Little Marc Jacob's first collection with CWF will be out for the Fall/Winter 2012-13 season. "We are looking to develop a new brand in our premium segment, which already contains Chloé, Burberry and Boss", explained Chrystel Abadie-Truchet, CWF's president. "We noticed that, during difficult times, it is the strong brands that show the best resistance". And according to CWF, Marc Jacobs was the perfect example of that.
The new contract signed with Marc Jacobs' children's brand leaves nothing to wish for. It includes worldwide licences for design, production and distribution. In fact, it could not be more ideal for CWF, as the clothing manufacturer always likes to work very closely with its brands' design teams. Since it was founded, CWF has been offering products for boys and girls of all ages.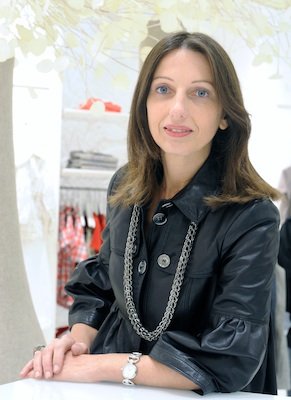 Chrystel Abadie-Truchet, Pdg de CWF
Children Worldwide Fashion turned over 165 million euros last year, which was stable in comparison to 2009, year of the financial crisis. "We also had to end our licences with
Escada
and Missoni", said Chrystel. She is expecting her company's revenue to increase by 5% in 2011 and a bigger growth in 2012, hopefully helped by the development of its Boss Enfant brand, which has now been with CWF for three seasons. "The brand should turn over around 22 million euros in 2011. It is already sold in 900 points of sale, of which 112 are concessions in department stores across Europe. Our strength has allowed us to be where we are now, associated to such renowned brands".
Today, CWF is without a doubt one of the most international children's clothing manufacturers. Its licensing agreements allow the group to distribute each one of its brands in all corners of the world. Europe accounts for 80% of sales, with Italy coming in 1st place and France and Spain in 2nd and 3rd, both with very similar sales. Great Britain came in 4th place, followed by Germany, Portugal and Greece. The latter has a significant decrease in sales after the crisis.
Since her arrival at CWF four years ago, Chrystel Abadie-Truchet has also led the company'sinternational development outside of Europe. In 2008 for example, a contract was signed with the
Chalhoub
Group from the Middle East, as well as another distribution licence in Japan. CWF already has contracts in China for certain brands and is currently signing agreements in Korea and Taiwan. Furthermore, the group is re-opening a distribution subsidiary in the United States in order to facilitate its dealings in the American continent, which up to now had to be done in many different ways such as via agents.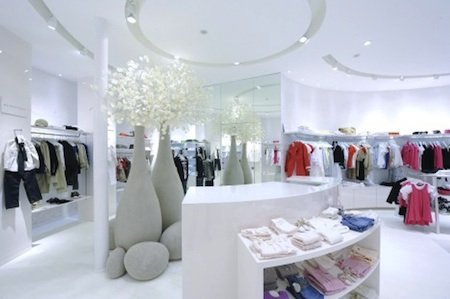 Atelier de Courcelles point of sale (Photo: Pixel Formula)
CWF's development is also counting on the expansion strategy of its other children's line Atelier de Courcelles. The brand's network is currently made up of 19 points of sale: 10 in Europe (7 in France, 1 in London, 1 in Belgium and 1 in Milan) and 9 overseas (2 in Russia, 2 in Kasakhstan, 3 in the Middle East, 1 in Hong Kong, and another one opening soon in Casablanca, Morocco). Five of these are monobrand boutiques (2 in Paris, 1 in Lyon, London and Milan). A new boutique will be opening in London's Stratford Centre at the end of August, beginning of September. The aim is to open around 10 points of sale every year. Projects in other locations are currently under way, especially in Russia. "We are beginning to get a sense of dynamic. In Paris and London, our points of sale are turning over around 9 to 10 thousand euros per square metre.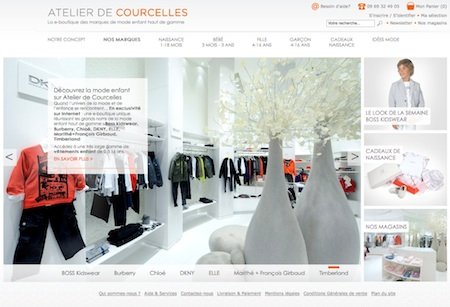 CWF's e-commerce website, made with Vente-privée.com's service
Last but not least, CWF has also just launched an e-commerce website, which it built using Digital Commerce Factory, a service business created by Vente-privée.com that helps brands develop their websites. "We are the first website to be launched via this service", said CWF's marketing director Catherine Jacquet. "We have decided to work with this team because they are used to dealing with brands". Digital Commerce Factory will manage all aspects of the website, called atelierdecourcelles.com. It has already been launched in French for the Spring/Summer 2011 season and, from now until the end of the year, will be translated into English, Spanish, Italian and German. Afterwards, CWF wishes to connect its websites with the boutiques.
Copyright © 2023 FashionNetwork.com All rights reserved.