Crocs wins appeal in patent case over shoe design
By Alexandria Sage

SAN FRANCISCO, Feb 24 (Reuters) - Crocs Inc (CROX.O) won a federal appeals ruling on Wednesday 24 February over a disputed patent covering the design of its plastic shoes.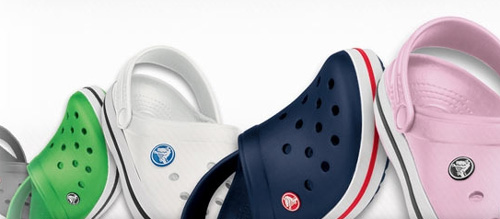 Crocs
The U.S. Court of Appeals for the Federal Circuit reversed a determination from the International Trade Commission that three of the footwear maker's competitors had not infringed the design patent.
All three -- Canadian companies Double Diamond Distribution and Holey Soles Holdings, and Massachusetts-based Effervescent Inc -- manufacture their shoes in Asia and import them into the United States.
Shares of Crocs were up 3.8 percent at $7.71 in afternoon trading.
The Niwot, California-based company makes resin-based shoes in colorful colors, with a strap around the heel. The shoes, which became a hit midway through the decade, have been much copied, and Crocs has repeatedly sued for infringement.
"This court perceives that the accused products embody the overall effect of the ... design in sufficient detail and clarity to cause market confusion," the court wrote in a ruling by Circuit Judge Randall Rader.
The court found that the Commission had relied too heavily on the verbal claims made in the patent without adequately considering the design as a whole.
"Without a view to the design as a whole, the Commission used minor differences between the patented design and the accused products to prevent a finding of infringement," the court wrote.
At the same time, the court remanded a separate infringement claim over the construction of Crocs' shoes back to the commission.
Double Diamond, Holey Soles and Effervescent were the last of 11 companies Crocs sued in 2006. The others eventually settled their cases, or their products were found not to infringe. (Reporting by Alexandria Sage; Editing by Lisa Von Ahn)
© Thomson Reuters 2023 All rights reserved.