Crémieux establishes itself in New York
New life and new strategy for the Crémineux brand: with the creation of a new design office and a showroom in New York, the establishment of Stéphane Crémieux and his family in this city marks an important step in the history of the preppy French brand. Son of the founder Daniel Crémieux, who lives in France, Stéphane gives objective reasons for expanding into the American market: "Today, the United States represents 90% of the brands' sales turnover of around 150 million euros. This is a result of our license with American department store chain Dillard's", he explains.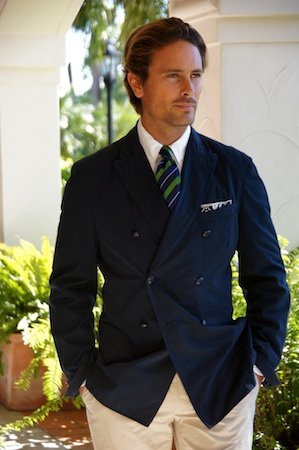 One of the outfits created with J. Press
Crémineux currently consists of 305 corners dedicated to men's fashion, 150 to women's and 250 to home wear. It is true that the brand was born out of Daniel Crémineux's own passion for the preppy American fashion, which he then "Gallicised" in his own way. His passion became even clearer when the founder and his son launched a line at the end of March in collaboration with the historic preppy American brand J. Press. Consisting of a 25-piece collection, in a "French/American authentic preppy style" according to the definition given by the two partners, the new line is sold exclusively at the J Press Madison Avenue store in New York.
Also only available in the United States, the women's collections are going to launch towards the end of June. Same goes for a new home wear line, arriving in stores in May. In addition to its partnership with Dillard's, Crémineux also hopes to enter the wholesale business. Finally, he intends to have opened a boutique in Soho by the end of 2012. "Not a big, American-style flagship, but a French boutique of 150 m², on a human scale and with a high value-added atmosphere of the Parisian district Saint-Germain-des-Prés".
Nevertheless, the brand is not turning its back to Europe. "Quite the contrary, Stéphane Crémineux emphasised. Although we have built a new design office in New York for 6 people, we have kept the one in Paris, which also has 6 people. We are also working towards a larger establishment in Europe, particularly in France where we are not represented that much yet".
Today, the brand is sold in around 150 multibrand stores in Europe, of which 4 can be found in France (Saint-Germain-des-Prés and La Madeleine in Paris, Aix in Provence and Saint-Tropez). A new store should open in Marbella this month (April) and two more in Athens and Madrid in September. Stéphane confirms that he is also searching for new locations in Paris, in the 8th district and in the Marais. Moreover, he is aiming to develop in Italy, Germany and England through distribution licenses. The brand also has a partner in China, where they "hope to expand further", says Stéphane Crémieux.
Copyright © 2023 FashionNetwork.com All rights reserved.