Christopher & Banks sees Q3 loss on weak sales
Nov 14 (Reuters) - Women's-apparel chain Christopher & Banks Corp forecast a net loss for the third quarter, hurt by weaker-than-expected sales.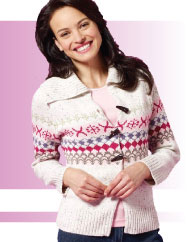 Chistopher & Banks Corp collection
Many apparel retailers, including Christopher & Banks and rival Charming Shoppes , have been hurt by the ongoing slowdown in the U.S. consumer market as more and more buyers stop short of spending on non-essentials.
"Recent economic events have adversely affected our sales as compared to our initial expectations for the quarter," Chief Executive Lorna Nagler said in a statement.
Christopher & Banks, which operates 822 stores in 46 states, also expects additional margin pressure for the remainder of the third quarter due to the reduced sales and the anticipated level of promotional activity among retailers.
The company, which operates its stores under Christopher & Banks, C.J. Banks and Acorn names, said its inventory per average store is expected to be up, on a percentage basis, in the mid-teens at the end of the third quarter.
Christopher & Banks expects a net loss of 4 cents to 7 cents a share from continuing operations for the quarter ended Nov. 29. It had earlier forecast a profit of 10 cents to 13 cents a share.
The Minneapolis-based company said its revised outlook assumes that current same-store sales trends, which are in the negative high teens on a percentage basis quarter-to-date, will remain at or near this level throughout the remainder of the third quarter.
Christopher & Banks said its outlook excludes the results of operations from its Acorn division or the costs associated with the closure of its Acorn stores. In July, the company said it will close 36 Acorn stores in 14 states by Dec. 31, as the performance of the division was unsatisfactory.
Shares of the company closed at $4.30 Thursday on the New York Stock Exchange. (Reporting by Dilipp S. Nag in Bangalore; Editing by Pratish Narayanan)
© Thomson Reuters 2023 All rights reserved.