Charlotte Russe mulls buyout bid; earnings disappoint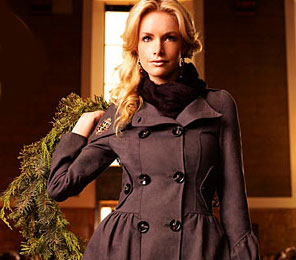 Charlotte Russe fall-winter 2008/2009
By Nivedita Bhattacharjee and Anne Pallivathuckal
BANGALORE (Reuters) - Charlotte Russe Holding Inc reported a fourth-quarter loss on markdowns Wednesday, the same day shareholder KarpReilly Capital Partners LP offered to take the women's-apparel retailer private in a deal valued at about $198.6 million.
The retailer also named a new management team, replacing officials who had left the company over the previous four months.
Earlier Wednesday, Charlotte Russe shares closed up 18 percent at $8.15 on news of the buyout offer, after having fallen 67 percent from its year-high of $20.61 in February.
However, shares of the company, which competes with Abercrombie & Fitch Co and Hot Topic Inc , were down 3 percent in trading after the bell, after the company released quarterly results and forecast a disappointing first quarter.
KarpReilly's proposal of between $9.00 and $9.50 per share, made along with H.I.G. Capital LLC, represented a premium of 31 percent to 38 percent to Charlotte Russe's Tuesday close of $6.89.
In its earnings call, the company said that while it would review and consider the offer, a fundamental premise of the proposal -- that Charlotte Russe has no permanent management team -- was addressed by the naming of a new chief executive and new chief financial officer.
In its offer, KarpReilly said it expects to be at the upper end of the price range in a friendly deal where the board cooperates in due diligence and agrees to release former Charlotte Russe CEO Mark Hoffman from restrictions that prevent him from working with prospective buyers.
Hoffman had retired from the company in July.
FAIR DEAL?
In its statement, KarpReilly -- which has a 5.4 percent stake in Charlotte Russe -- said it had originally approached the company regarding a potential acquisition almost a year ago, but was turned down by the board.
Despite the premium offered, KarpReilly's price might not be enough to interest the company, according to at least one analyst.
The offer price "seems rather cheap," Robin Murchison, analyst with Suntrust Robinson Humphrey, told Reuters earlier.
"But I would guess that if (KarpReilly) doubled the offer, (Charlotte Russe) might give it more than a passing glance."
At the time, Murchison -- who sees no other potential bidders for the company -- said the board may not do the deal if they can fill the posts of CEO, CFO, and merchandising chief.
The mall-based retailer later named John Goodman, former Chief Executive of now bankrupt retailer Mervyn's as CEO, Frederick Silny, former CFO of Guess Inc. , as finance chief and Emilia Fabricant chief merchandising officer.
HIGHER MARKDOWNS
For the fourth quarter, the company which sells apparel and accessories targeting young women in their teens and twenties under the Charlotte Russe, Refuge and blu Chic brands, posted a net loss of 6.6 million, compared with a net profit of 8.4 million a year ago.
"An increased level of markdowns was necessary to clear through our back-to-school merchandise, which drove earnings per share below our expectations," interim Chief Executive Len Mogil said in a statement.
Quarterly adjusted earnings of 1 cent a share compared with analysts average expectations of 15 cents a share.
First-quarter earnings are now expected to be between 10 cents and 18 cents a share, compared with analyst expectations of 45 cents a share.
"Based on the current tone of business and industry-wide expectations for a difficult and highly promotional holiday season, we expect our first quarter comp store sales to be in the negative mid-to high single digits," the company said in its earnings call.
(Editing by Anthony Kurian)
© Thomson Reuters 2023 All rights reserved.