Banana Republic tests women's accessory chain
NEW YORK, May 18 - Gap Inc's (GPS.N) Banana Republic chain is testing a spin-off store specializing in affordable women's accessories, trade magazine Women's Wear Daily reported on Monday 18 May.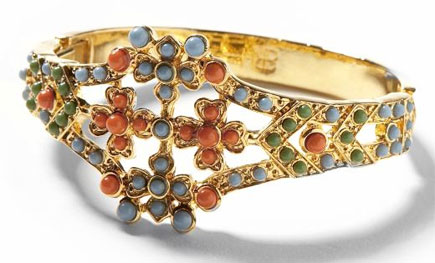 Jewellery from Banana Republic
A prototype of the new store, called Edition by Banana Republic, opened on Friday in San Francisco, the paper said, adding that 80 percent of the store's merchandise costs less than $100.
Gap officials could not immediately be reached.
The move from Gap, which also runs the lower-priced Old Navy chain in addition to its namesake stores, comes at a time when some other retailers are looking to trim their portfolio of brands.
Abercrombie & Fitch Co (ANF.N) said last week it would conduct a strategic review of its Ruehl chain, which caters to twentysomethings, in a sign that it may shed the stores, which have underperformed for months. Last year, women's apparel chain AnnTaylor Stores Corp (ANN.N) shelved plans to launch a new store concept targeting baby boomers. (Reporting by Martinne Geller, editing by Maureen Bavdek)
© Thomson Reuters 2022 All rights reserved.