Asos Marketplace's journey begins
Taking on rival Ebay Fashion Vault, Asos Marketplace was previewed on Friday. The online site will officially launch soon but for now the buzz starts spreading. This will be another e-commerce platform to sell unwanted clothes and pick up bargains.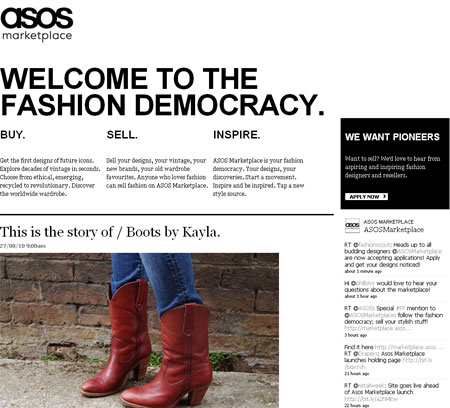 Asos Marketplace
The applications for boutiques are now open, whether they be designers, indies or vintage re-sellers. Individual items can be listed when the site fully launches.
Asos recorded revenue for the full year ending in March 2010 at $344 million. Ebay's revenue for Q2 ending in June reached $2.2 bilion. The competition is seriously on.
On a funny note though, James Hart, E-commerce Director for Asos since its start-up 11 years ago recently tweeted; "Just received an email from someone who'd like to discuss the importance of e-commerce at Asos.com. I hope they aren't expecting a reply." So take note, the internet is really the only place to obtain full exposure and an infinite number of potential fashion consumers.
By Rosie Hart
Copyright © 2023 FashionNetwork.com All rights reserved.