Armani opens first hotel in Dubai, plans Milan next
By Tamara Walid

DUBAI, April 27 (Reuters Life!) - Italian designer Giorgio Armani opened his first hotel at the world's tallest tower in Dubai on Tuesday 27 April, giving a boost to the Gulf Arab emirate's bid to recover from a debt crisis.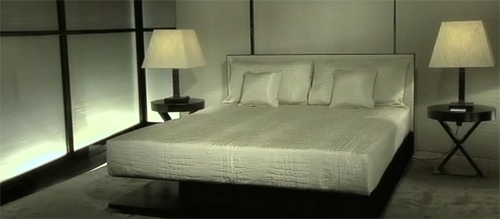 www.giorgioarmani.com
The designer brought his trademark minimalist style to a city famous for excess, with the Armani Hotel Dubai designed with an understated palette of cream and earth colours.
Armani -- whose business is worth around $2.4 billion a year in sales -- partnered with Emaar Properties, the Arab world's largest listed developer, in 2005 to develop a series of hotels, resorts and residences in key cities around the world.
From man-made islands shaped like palm trees to an indoor ski slope in the desert, Dubai has marketed itself as the city of bling, putting itself on the map with a bigger is better policy.
Armani said Emaar Chairman Mohamed Alabbar described the city as "Las Vegas in the desert".
"I am a minimalist, less is more... and when I looked at what was happening here it was the opposite," he said at the hotel launch. "But he wanted me and I wanted him."
Emaar and Armani plan to open the next hotel, Armani Hotel Milano, in the Italian city in 2011.
Other projects include Armani's first resort, to be located in Marrakech, and Armani residences villas in Marassi, Egypt.
A standard room in the hotel, which does not have a single picture on its walls, will cost 4,000 dirhams ($1,089) a night, while the best suite has a price tag of 40,000 dirhams.
A table at the Prive lounge, which is home to the world's largest LCD screen, will cost at least 3,000 dirhams a visit, as guests can feast their eyes on Armani shows and videos.
The 160-room Armani hotel occupies six floors in the Burj Khalifa tower, which opened on Jan. 4, in addition to eight floors dedicated to 144 Armani luxurious residences.
The two parties declined to reveal the cost of the hotel.
Dubai, one of seven members comprising the United Arab Emirates and the Arab world's trade and tourism hub, saw the sharpest drop in hotel revenues in the Middle East for 2009, hit by the global financial crisis.
The heavily indebted emirate generates around 19 percent of its gross domestic product from tourism and its economy has suffered as people tightened budgets after the crisis.
Dubai's construction boom started when it first allowed foreigners to buy into its property market in 2002. Luxury resorts, hotels, serviced apartments and holiday villas mushroomed, drawing nearly 7 million tourists in 2007.
The Middle East, despite being hit by the global downturn, has shown some resilience over the past year with revenue dropping less than other regions, industry figures showed.
Dubai's hotel market is closest to the bottom of the cycle and is showing signs of recovery with beach hotels leading the way and showing positive growth, a recent report by real estate service company Jones Lang LaSalle said. [ID:nSGE63J0KT]
(Editing by Paul Casciato)
© Thomson Reuters 2023 All rights reserved.