Armani eagle design ruffles feathers in Indonesia
By Chatrine Siswoyo
JAKARTA (Reuters Life!) - Italian fashion house Armani has stopped selling online a T-shirt bearing a logo similar to Indonesia's national symbol after some bloggers protested and other people called for the label to be sued.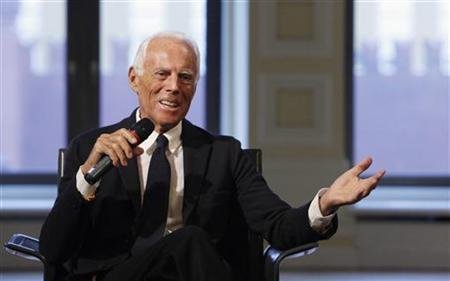 Armani Exchange had been selling the Studded Eagle T-shirt on their website, a $42 garment that featured what the firm described as a military-inspired eagle.
Indonesians soon saw a similarity between the eagle and their national symbol, Garuda Pancasila, which features a mythical and powerful bird-like creature.
Local newspaper Kompas published an opinion piece calling for the government to sue Armani and reported that Justice Minister Patrialis Akbar had said that the Garuda Pancasila symbol was a patented symbol of Indonesia.
"This is really Garuda Pancasila, the symbol of our identity as a sovereign nation," Arianto Suryowibowo, an Indonesian man, wrote on his Facebook page.
"Armani Exchange should clarify in their T-shirt description that this is a 'Republic of Indonesia-inspired eagle logo', not a military logo from who knows where."
Armani Exchange, in a statement emailed to Reuters, said the T-shirt had been withdrawn from their website.
"The issue was brought to our attention and the item has been removed from our website immediately. We apologize for any offence this may have caused," the statement said.
(Writing by Sunanda Creagh; Editing by Sara Webb and Miral Fahmy)
© Thomson Reuters 2023 All rights reserved.