AngloGold gets Q1 gold price boost, cuts hedge
JOHANNESBURG, May 15 - AngloGold Ashanti (ANGJ.J), the world's No. 3 gold producer, swung into profit in the first quarter of this year on the back of a higher gold price, and said it would trim its hedge book even further.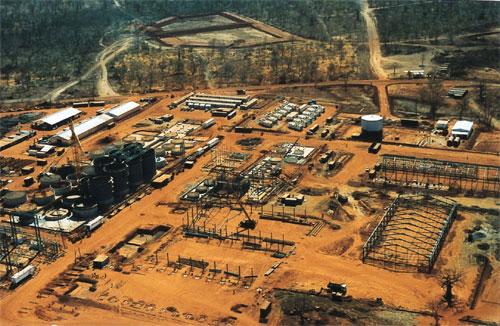 Aerial view of the AngloGold Ashanti mine in Sadiola, Mali (Photo: AngloGold Ashanti)
AngloGold's earnings came bang in line with market consensus - it reported adjusted headline earnings of $150 million, or 42 cents a share, in the period to end-March compared with a loss of $17 million, or 5 cents a share, in the quarter to end-December.
The gold price in the March quarter averaged $908 per ounce, up 14 percent on the December quarter, while the rand/dollar exchange rate average was flat, sending the rand gold price up by 14 percent to a record high of 290,000 rand per kg.
South African gold producers sell their gold in dollars and received earnings in rand.
"The improved earnings are due to higher spot gold prices, a lower hedge discount and weaker local operating currencies," Chief Financial Officer Srinivasan Venkatakrishnan said.
"We remain committed to reducing the hedge book further and achieving the narrowest possible discount to spot gold prices."
AngloGold shares rose as much as 2 percent, and traded 1.21 percent up at 314.03 rand, beating a 0.4 percent rise in the gold share index .JGLDX.
Mark Cutifani, AngloGold's chief executive officer, told a media conference call he expected the gold price to rise, and forecast it would trade between $850 and $1,000 an ounce this year, which could boost earnings further if costs were contained.
"The price should rise beyond the $1,000 level next year, driven mainly by investment funds," he said.
AngloGold, which has one of the biggest forward sales among its peers, cut its hedge book commitments by 154,000 ounces during the March quarter, and promised even further reductions.
Forward sales have been used by mining companies to fix selling prices for nuggets not yet mined to protect profits, but AngloGold's hedge book has been limiting the company from benefiting from the strong spot price of gold.
FORWARD SALES
Cutifani said the company -- Africa's largest gold producer, with around 21 operations across four continents -- would slash its hedge book by up to 150,000 ounces in the current quarter.
Cutifani, who has said before that he is not a fan of the gold hedge, said he wanted to cut the hedge book to below 4 milion ounces by end-2010 from 5.84 million ounces by the end of March. The company has so far cut its forward sales by almost 50 percent over the past year.
"Our strategy of reducing the hedge book by almost half over the past year is yielding real results, giving a good kicker to our received gold price," he said.
Cutifani said second-quarter production would be 1.14 million ounces. First-quarter output fell 13 percent to 1.103 million ounces partly due to safety-related closures in South Africa and operational woes at its Geita Gold Mine in Tanzania, although these had now been rectified and output should rise, Cutifani said.
Total cash costs for the group would rise by up to $485 per ounce in the second quarter, after rising 5 percent to $445/ounce in the first quarter.
Cutifani said AngloGold had formally received a go-ahead from the Colombian government, which awarded the firm exploration permits covering a portion of AngloGold's vast La Colosa concession, which requires some $200 million over the next three to four years for initial exploratory work.
(Reporting by James Macharia; editing by Simon Jessop)
© Thomson Reuters 2021 All rights reserved.