Amazon, eBay up the ante on apparel this holiday
(Reuters) - Amazon.com (AMZN.O) and eBay (EBAY.O) are battling for fashionistas this holiday season, hoping improvements to the tricky, but lucrative art of selling clothes online will translate into bigger sales.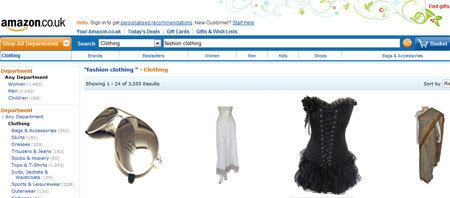 Amazon.co.uk
Apparel is today the biggest single sales category online, but it was virtually ignored by both companies in favor of products such as electronics in earlier years.
Although eBay claims it is the largest seller of fashion online, it measures volume, not sales, on its site, so comparisons with Amazon are difficult. Online apparel sales at retailers such as
Nordstrom
(JWN.N) or
Gap
(GPS.N) are growing in the double digits, but those units are still relatively small.
Clothing and accessories are now projected to account for 14 percent, or $25 billion, of the $173 billion in total U.S. online retail spending for 2010, according to Forrester.
"That's the main reason Amazon and eBay are focusing on it. They see these projections of how large it could be and they want a piece of it," said Forrester's Sucharita Mulpuru.
Web commerce experts believe Amazon, the dominant online retailer, is more likely to win the battle, while eBay still tries to revamp its business from an online auctioneer of quirky used goods to a marketplace focused on new merchandise.
Still, as the holiday looms, both are betting that improvements they have made to the buying experience -- from better visuals to partnerships with designers -- will take market share from department stores and specialty apparel retailers.
"All these changes and strategies are geared to having the best possible selection and buying experience for the fourth quarter," said Scot Wingo, chief executive of ChannelAdvisor, which helps retailers sell online.
The fourth quarter accounts for the lion's share of sales and profits for most retailers. Analysts expect Amazon to post a 35 percent gain in quarterly sales, with a 4.5 percent gain at eBay, which is in the latter half of a three-year turnaround designed to reinvigorate sales.
RUFFLES OR RUCHING?
Historically, "apparel was kind of a backwater" for Amazon and eBay, said Siva Kumar, CEO of online marketplace theFind.com. Instead, the focus rested on easier-to-sell products such as electronics or books, in Amazon's case.
Apparel is also not an easy fit for the Web. Whereas phones and blenders with model numbers or books and CDs with titles are easily categorized and sold online, apparel descriptions are complicated and sometimes subjective.
Sizes, styles, cuts, details -- is that red a blood red, a rose or a terra cotta? -- make categorization a nightmare. After all, not every ruffle is alike and what looks to be a slim-cut jean may actually turn out to be a jegging -- a legging that looks like jeans.
This summer, Amazon alerted its third-party apparel sellers, who pay a fee to advertise their wares on the site, that it was upgrading to a new format that would allow a more detailed search and improve holiday merchandising.
The company has acknowledged its site was not ideal for selling shoes, another complex category.
"Many Amazon systems that were designed and work well for replenishable businesses like books struggle with the complexity needed for shoes," wrote Amazon in a job description for a women's shoes manager on its website.
With an upgraded format that requires sellers to submit more product details, Amazon is likely to do a better job at sorting displays for the grey sweaters with cap sleeves from the grey sweaters with cowl necks, for example.
"Without that data, you can't sort the sweater and put it in the right spot," said Kumar.
Still, the company is best positioned to sell "commodity" garments, such as boxed sets of underwear, experts said.
"That will hurt
Wal-Mart
(WMT.N) and
Target
(TGT.N) and Costco (COST.O) and the companies you go to for your basics," said Forrester's Mulpuru. "That is where Amazon definitely has the opportunity to win. It's big box."
Disadvantages include Amazon's status as a competing retailer. That will likely keep away top brands that want more exclusivity and cachet and have other distribution avenues.
Fiona Dias of GSI Commerce, which advises retailers on how to best sell online, said she has told her clients not to sell on Amazon because, "it's all about price."
Moreover, questions still linger over the success of
Zappos
, the online shoe and apparel retailer bought last year by Amazon, which is notorious for scant details on categories.
"We don't know how well they (Amazon) are doing in apparel. We haven't had a lot of disclosure ... about how well Zappos is doing," said Citigroup analyst Mark Mahaney.
WHAT'S INSIDE THE STORE?
Ebay says it is the largest seller of clothing, shoes and accessories online with 10 million active fashion buyers who spent $5.4 billion in global gross merchandise volume (GMV) in 2009. GMV rose 8.3 percent to $1.3 billion year-over year in its third quarter of 2010.
Like Amazon, eBay has been curating to highlight current trends. Stylists on eBay share fashion tips and users can upload photos of their favorite looks. Technology that offers "more like this" products to shoppers when they search is in the early stages.
The newly-hired general manager of fashion, Miriam Lahage, a veteran of off-price retailer TJX Companies (TJX.N), foresees more brands aiming to sell on eBay, given that the company is not a competitor, but a huge marketplace.
"We're not retailers. We're really the only people they can do business with and give them access to a great customer base and we don't get in the middle of it," said Lahage.
But that might be the central problem for eBay, some say. With no power to control what is sold, eBay may lose the patience of shoppers if they don't like what they see.
"It's like designing a beautiful store. But the stuff inside is not what you want to buy," said theFind.com's Kumar.
Moreover, eBay can only suggest to sellers that they offer free shipping and returns, a big buying incentive at the heart of Amazon's strategy and that of some traditional retailers.
"Apparel is a bright spot because it's growing," said ChannelAdvisor's Wingo. "If they (eBay) lose it, it's one of the crown jewels they would have lost."
(Reporting by Alexandria Sage; editing by Michele Gershberg and Andre Grenon)
© Thomson Reuters 2023 All rights reserved.