Amazon, EBay gain on ecommerce data
June 21 - New data are showing strong growth in eCommerce, with Amazon.com having particularly healthy same-store sales gains. Ecommerce, excluding travel spending online, grew in May to $12.3 billion, up 13 percent from a year earlier, according to ComScore Inc.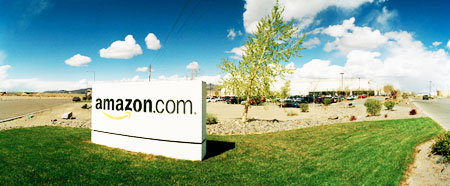 A place of business of Amazon in Fernley, Nevada, USA - Photo: corbis
ChannelAdvisor's year-over-year same-store sales rose about 84 percent for Amazon.com and 13 percent for
eBay
in May, according to a Barclays Capital research note sent to clients on Friday.
Analysts at Barclays Capital said there was a strong correlation between this data from ComScore and ChannelAdvisor and the sales of Amazon.com and EBay, two of the world's largest ecommerce companies.
"The secular trends in eCommerce remain strong," Anthony DiClemente, an Internet analyst at Barclays Capital, wrote in Friday's note.
Amazon.com shares climbed 1.4 percent to $186.32 in late afternoon trading Friday, while EBay gained 1.2 percent to $28.81.
Mark Mahaney, an internet analyst at Citi Investment Research & Analysis, cited ComScore's data in a bullish note on ecommerce Friday.
"We continue to believe the Recession accelerated the Online share shift, and view the possibility of a return to pre-Recession 20%-ish growth rates a distinct possibility," Mahaney wrote.
(Reporting by Alistair Barr)
© Thomson Reuters 2023 All rights reserved.