US appeals court rules for eBay in Tiffany spat
By Grant McCool and Alexandria Sage
NEW YORK/SAN FRANCISCO (Reuters) - EBay Inc did not engage in trademark infringement and dilution by selling counterfeit Tiffany & Co goods on its website, a U.S. appeals court ruled on Thursday 1 April, but it ordered further review of the jeweler's claim of false advertising.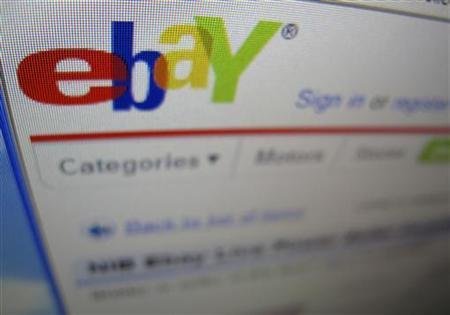 Tiffany and other luxury brands have long argued that counterfeit merchandise bearing their names is sold on
eBay
. The Web commerce company, which does not itself put the goods up for sale, says it has spent millions of dollars to track down counterfeiters and remove such listings.
The case was seen as a major challenge in the United States to the freedom of Web companies from eBay to Google Inc, which claim that they are merely hosting services, and any trademark infringement lies with others, not them. Google won a major trademark victory in the European Union over similar claims last month.
Tiffany said it would consider an appeal to the U.S. Supreme Court and that the decision "leaves in place a prior ruling which allows eBay to profit from counterfeit sales."
The court signaled that eBay met its responsibilities in its partnership with brand holders, said Sally Abel, an attorney who chairs Fenwick & West's trademark group and was not a party in the case.
"It's a win for e-commerce," said Abel, adding that the ruling helps define "the need for the online marketplace to have rules and to protect trademark rights up to a point -- but only up to that point."
A panel of judges on the U.S. Court of Appeals for the 2nd Circuit in New York heard oral arguments in the dispute last year over Tiffany's claims, which dated back to 2004.
"It is true that eBay did not itself sell counterfeit Tiffany goods; only the fraudulent vendors did, and that is in part why we conclude that eBay did not infringe Tiffany's mark," the appeals court opinion said. "But eBay did affirmatively advertise the goods sold through its site as Tiffany merchandise."
Tiffany accused eBay of false advertising because its website touted Tiffany goods, but many of them were actually counterfeit. The appeals court disagreed with the finding of the district court that eBay's ads were not likely to confuse consumers.
"The law requires us to hold eBay accountable for the words that it chose insofar as they misled or confused consumers," read the appeals court ruling.
EBay said in a statement that the ruling validated its anti-counterfeiting measures and that it was confident that it would beat the false advertising claim. It criticized the use of courts to settle these issues, saying "we continue to support cooperation, rather than litigation."
BATTLING FRAUD
The opinion was published more than two years after a week-long bench trial before U.S. District Judge Richard Sullivan in late 2007. He ruled in July 2008 that eBay was not liable for trademark infringement by allowing fake Tiffany goods to be sold on the website by individuals. Tiffany then appealed to the higher court.
The appeals court ruling noted that eBay and others have "a strong incentive to minimize the counterfeit goods sold on their websites." Tiffany argued that if eBay were not held liable except when infringing items are brought to its attention, it will have no incentive to stop the sale of counterfeits.
In its arguments to the court, eBay said it spent as much as $20 million per year to battle fraud on its website, including buyer protection programs and employees who focus exclusively on anti-infringement issues.
Tiffany shares closed up 1.6 percent to $48.25 on the New York Stock Exchange on Thursday (1 April) afternoon. EBay fell 1.47 percent to $26.57 on Nasdaq.
The case is Tiffany & Co v eBay Inc, U.S. Court of Appeals for the 2nd Circuit in New York, No. 08-3947.
(Reporting by Grant McCool and Alexandria Sage; Additional reporting by Phil Wahba; Editing by Lisa Von Ahn; Gerald E. McCormick and Carol Bishopric)
© Thomson Reuters 2023 All rights reserved.