Undeterred by snow, Parisians seek sales bargains
By Lionel Laurent and Estelle Shirbon

PARIS (Reuters) - Thousands of Parisians and tourists braved a snowstorm early on Wednesday (6 January) morning to snap up items at prices reduced by as much as 50 percent in the city's most fashionable department stores.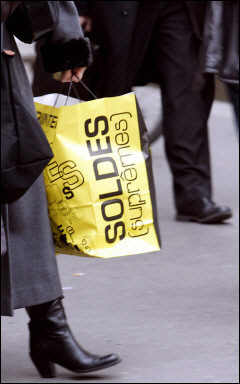 Photo : Bertrand Guay/AFP
Handbags and accessories from designer brands such as PPR's
Gucci
and Yves Saint Laurent were particularly sought after, with long queues forming at their stands inside the giant
Printemps
and
Galeries Lafayette
stores.
"This year we have at least twice as many people as we had last year," said Paolo de Cesare, chief executive of the Printemps group, eyeing dozens of Chinese tourists waiting to get in for the 8 a.m. (0700 GMT) opening.
Some shoppers said the discounts on offer at the start of the government-regulated winter sales season were not quite as mouth-watering as a year ago, when acute economic woes pushed some brands to slash prices by 60 percent.
De Cesare said last year's crisis had pushed discounts to "unprecedented" levels, adding: "I don't think we want that level of discount again."
Consumer spending has held up relatively well in France over the past year, helped by government measures such as a car scrappage scheme and strong household savings rates.
But even if the January sales go well for retailers, there might not be much eagerness to shop during the spring season, said Marc Touati, economist at Global Equities.
"Households are generally still worried and still fragile because of high unemployment levels," said Touati, adding job creation would be weak at least until the summer -- echoing wary comments from British retailers such as
Marks & Spencer
Plc on the year ahead.
Bargain hunters scouting the Printemps store on the Boulevard Haussmann, a shopping hub near the Paris
Opera
House, said they were prepared to spend despite the uncertain economic environment.
"The sales are an opportunity to treat yourself to some items that you wouldn't necessarily buy at the full price," said Sandra Touratier, a young lawyer working her way through a clothes rack.
She said she had job security and the economic downturn had not caused her to change her shopping habits either during the pre-Christmas rush or the January sales.
Pensioner Josette Tonetto had a precise mission in mind.
"I'm mainly here for my grand-daughters, and I'll seize the opportunity to have a look for myself," she said. "The sales are good for children's clothes. I found a very nice coat reduced by 40 percent, that's really worth it."
(Editing by David Holmes)
© Thomson Reuters 2023 All rights reserved.