Shoes, bags prove staying power in luxury crisis
By Sophie Hardach
PARIS (Reuters Life!) - At the height of the luxury goods boom, launching a single successful "it" bag was enough to substantially alter a company's profit outlook.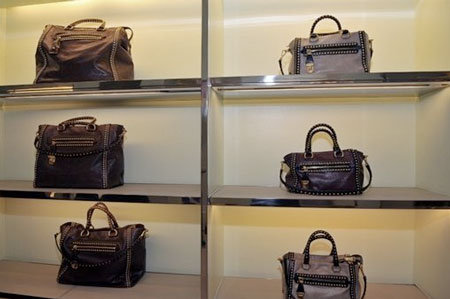 Prada boutique in New York - Photo : AFP.
Over the past week at the Paris fashion shows, buyers, designers and executives were hoping the same kind of accessories magic would help luxury firms weather the economic downturn.
"Yes there is the crisis, but it's always an opportunity for some brands. We're going to have a record year and record profit," Sebastian Manes, director of accessories at Selfridges&Co, told Reuters at the Vivienne Westwood show.
He said the British department store had seen double-digit growth in handbag sales compared to last year, diversifying its buying strategy as the craze for celebrity-endorsed "it" handbags faded.
Whereas before, there would be a key bag for each designer, Manes said the store now offered a broader range that changed often and included edgier brands such as Martin Margiela, Westwood and Dries Van Noten.
"We're coming to Paris with plenty of cash in our pockets," he added.
Luxury goods companies have seen their sales hammered by the downturn, but accessories have proven relatively resilient as shoppers use them to freshen last year's recycled wardrobe.
"There's less demand for evening wear, for ceremonies, but there's more demand for bags, shoes and foulards because people use it to renew their look," said Simone Rondelli, co-owner of the Supperclub boutique in Bologna, Italy.
In the second quarter of this year, sales at the leather goods and saddlery division at Hermes rose 21 percent on a like-for-like basis to 228 million euros ($336 million), accounting for more than half of total revenue.
At Dior, part of luxury group LVMH that also saw gains in leather goods prop up overall results, big leather bags played a prominent part in the film noir-inspired show. Chief Executive Sidney Toledano told reporters backstage that accessories would continue to be "extremely important."
Some designers are clearly looking for a new cult accessory that could succeed the "it" bag -- at Chanel, Karl Lagerfeld made a model pretend to answer her blackberry on the catwalk to draw attention to the device's designer case.
Others still bet on one must-have bag for each season and say they do not believe the "it" bag -- defined as a highly recognizable, best-selling bag that is marketed heavily and touted by celebrities such as Kate Moss -- has had its day.
"I don't think it's really over," Estelle Orilland, accessories designer at Stella McCartney, told Reuters after a show that featured intricate bags made of wood.
For spring/summer 2010, Orilland mixed jewelry and accessories by combining the hand-made bags with precious materials such as crystals.
"For us it's about one bag of the season, and then the different materials. I know the "it" bag is a bit...but we try to work on details," she added.
(Editing by Paul Casciato)
© Thomson Reuters 2023 All rights reserved.