Removal of Aussie model sparks up skinny debate
By Belinda Goldsmith
SYDNEY (Reuters Life!) - Australian Fashion Week organizers said on Wednesday that tighter rules on skinny models were not needed for its catwalks, despite one Australian model being pulled briefly due to fears for her health.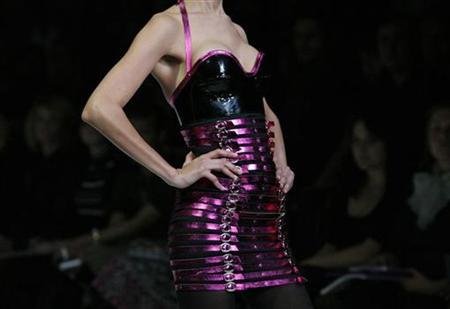 Australian model agency Chic Management took 23-year-old Stephanie Carta out of a show by designer Michelle Jank on Monday when it became obvious she had lost weight since moving to Paris last November.
But she was allowed back onto the catwalk a day later, after her agency was reassured that she was fit and well -- although her appearances were limited to about eight shows instead of about 15.
"She's been working for seven days a week, 11 hours a day, to pursue her dream of becoming an international model but she also contracted glandular fever so she had lost weight," said the agency's spokeswoman Kathy Ward.
"She is on a positive track now and is going to relax, take time out, not work as hard and have lunches and dinners."
Ward declined to give exact details of the five-feet 11-inches (180 cms) tall model's weight.
Fashion designers, model agencies, and the media have been widely attacked for promoting an emaciated, waif-like look which critics say contributes to eating disorders among young girls and led to the death of two anorexic Latin American models in 2006.
But the head of Australian Fashion Week, Simon Lock, said there was no reason for organizers of the 13th annual event to intervene or draft stricter rules to conform with some overseas fashion shows that state what body mass index models should have.
Spain and Italy have recommended banning catwalk models with a body mass index (BMI) of less than 18.5 -- a measure expressing a ratio of weight to height -- but shows in London, New York and Paris say this index is not an accurate measure of health.
Rosemount Australian Fashion Week's only guidelines over body image state: "RAFW does not currently see the need to impose strict rules on designers regarding the casting of models at the event in relation to imposing body mass indexes ...there has been very little cause for concern regarding the issue."
Lock said the "size zero" debate was just not an issue in Australia where most models tend to have higher BMIs given a range of environmental factors.
"The models we have at Australian Fashion Week are beautiful and athletic," he said.
The event did, however, this year ban models aged under 16 from appearing on the catwalk after uproar over plans to feature 14-year-old Polish model Monika Jagaciak.
Ward said there was a lot of pressure in the fashion industry outside Australia for models to be extremely thin.
"In Australia we have a much healthier attitude towards body image and such an outdoor lifestyle that the girls here are usually one size larger," she said.
"It's not like in Europe and New York where there is a lot of pressure to be thin and restrictions are needed to keep this under control. However, if designers do decide they want smaller models, then that is a problem for Australian models."
(Editing by Gillian Murdoch)
© Thomson Reuters 2022 All rights reserved.