Reforms triggered a style revolution in China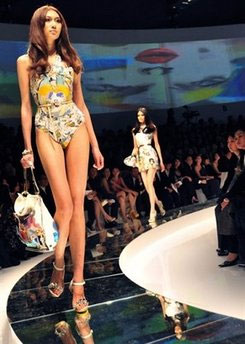 Versace outfits during the Italian fashion designer's first fashion show in the Chinese capital in November - Photo : Frederic J. Brown/AFP
SHANGHAI, Dec 9, 2008 (AFP)
Fashion in China's largest city constantly begs double takes.
Families window-shop in multicoloured pyjamas, young women sport pink, plush bear heads as winter hats, and even dogs wear denim.
Perhaps nowhere are the changes set off by the reforms that opened China up to the world 30 years ago more visible than in ordinary Chinese people's personal style.
The same streets in 1978 were a sea of identical Mao suits in a drab palette of navy, grey and brown.
"China must have seen the biggest changes of any country in the world in the past 30 years," said Ma Yue, a 22-year-old theatre student.
For months, Ma immersed herself in films, books and photos from 30 years ago so she could help direct "Back to 1978", a project aimed at reminding what life was like before the reforms.
Visitors were invited to don coarse, faded blue shirts, before stepping out into Shanghai lanes populated by actors -- mostly local seniors -- cooking, chatting and quarrelling.
"It's so vastly different, almost like heaven and earth," said Wang Shaohui, editor of the Chinese edition of the French fashion magazine L'Officiel.
"There was no fashion at all in 1978. I remember from my childhood everyone was wearing black, dark blue and olive-coloured military uniforms," said Wang, who was born in 1972.
Fashion helped spur an isolated China to open up, Chen Jinhua, a retired senior industry planning official, wrote in his memoirs.
China was locked in a battle between cotton and grain in the 1970s as it tried to feed and clothe more than a fifth of the world's people with only seven percent of the farm land, Chen wrote.
Producing more cotton meant less land for grain and possible food shortages. As a result, polyester technology became a priority when China began its rapprochement to the West, Chen said.
To recreate that sense of scarcity, "Back to 1978" time travellers were handed ration coupons -- used with cash to buy basic needs.
Thirty years ago, a button-down shirt required almost half a person's annual ration and a family would have to pool a year's worth of coupons to fit out one person in new clothes.
Since a real shirt was a luxury, some improvised, wearing just a collar without the rest, author Zhang Lijia recalled.
"It resembled a proper white shirt when you buttoned up your jacket, or pulled on a jumper," she said. "But worn on its own, as (my father) often did, the collar resembled a silly bib."
"Once a friend gave me a fake white collar, made from cool cotton with pink lace," said Zhang, who turned 14 in 1978. "I loved it very much."
Fast forward to Shanghai 2008, where Yuki Cheng updates her photo blog (space.yoka.com/739158/) nearly daily to showcase the latest cashmere additions to her overflowing wardrobe.
"I've been a shopping addict ever since I was young," she said, estimating she had enough outfits for two years of blog entries.
"Our country has experienced such a special period over the past 30 years, our hunger for beauty and clothes was suppressed before," she said.
Glamour and excess are not new in Shanghai, known as the "Paris of East" until the Communists took power in 1949.
Designers are now reaching back -- before the cultural revolution cracked down on anything eyecatching -- to the glory days of tight-fitting qipao dresses for inspiration.
Even Shanghai's Communist Party leaders have embraced fashion to demonstrate the city's modernity and status.
As part of last month's Shanghai Fashion Week, state-owned TV station Channel Young created an exhibition inside a reform-era bus, charting each year since 1978 with 30 magazine covers -- from Mao suits to kimonos to Cosmo.
The channel's chief executive Bao Xiaoqun said it was fascinating to see people born in the 1980s come through.
"Most can't remember the past very well because they were so young, but they are the generation that actually experienced the sharpest contrast," Bao said. "At the same time they think the older generation is very mysterious."by D'Arcy Doran
Copyright © 2023 AFP. All rights reserved. All information displayed in this section (dispatches, photographs, logos) are protected by intellectual property rights owned by Agence France-Presse. As a consequence you may not copy, reproduce, modify, transmit, publish, display or in any way commercially exploit any of the contents of this section without the prior written consent of Agence France-Presses.