One of the founders of Guess goes into politics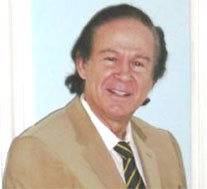 Photo of Georges Marciano being used for his campaign
There is only
one step
between fashion and politics; a step that Georges Marciano may now be taking. At sixty-nine years old the co-founder of
Guess
has announced his candidacy in the elections for Governor of California. The king of top of the range denim could therefore succeed Arnold Schwarzenegger.
Running as an independent, the entrepreneur wants residents to "dream again" saying on his campaign website "let's not give up hope instead we together can create jobs for the citizens of California instead of simply creating and imposing higher taxes for the average citizen and not the wealthy." Running against Mr Marciano is, among others, the former CEO of
eBay
, Meg Whitman.
Georges Marciano is the 'American Dream' incarnate. Beginning his career in Marseille, he moved to California in 1977 with his brothers where, five years after their arrival, they launched their label Guess. In 1992 Georges Marciano decided to leave Guess to work in real estate.
By Jonathan Fulwell (Source: Sarah Ahssen)
Copyright © 2023 FashionNetwork.com All rights reserved.