Olympics: London to punish naked advertising abuses
LONDON - Publicity seekers who turn their bodies into billboards to advertise brands during the Olympic Games in London next year face heavy fines under laws to protect official sponsors.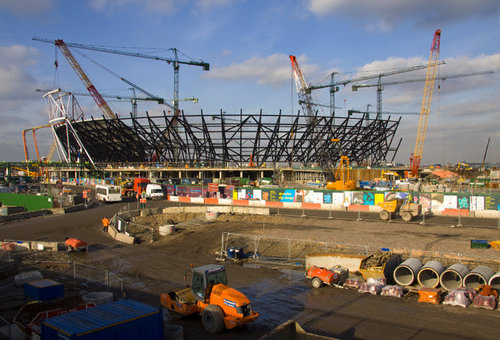 London 2012 Olympic stadium under construction / Photo: Corbis
Restrictions on so-called ambush marketing will also extend beyond the main Olympic sites to landmark buildings including clock tower Big Ben, parliament and nearby Westminster Abbey, according to rules set to be passed by legislators.
The Olympics has a core group of sponsors with long-term contracts, while other companies sign up for individual Games. London is aiming to raise around 700 million pounds from domestic sponsors for 2012.
These lucrative contracts risk being devalued by publicity stunts whereby companies obtain exposure -- sometimes literally -- to a television audience of billions.
The government plans to "prohibit advertising on the human body," the Department for Culture, Media and Sport said. Breaking the rules could result in a fine of up to 20,000 pounds.
An individual invaded a diving event at the Athens Games in 2004 with a company name daubed on his bare chest.
Games organisers have tried to clamp down on unauthorised product placement since the 1996 Games in Atlanta, when sportswear company
Nike
placed advertisements near the stadiums and established a "Nike village" even though it was not an official sponsor.
Company directors and land owners behind ambush marketing in London also face prosecution unless they can prove they had no knowledge of the action or tried to prevent it.
"With half the world watching on TV, the temptation for people to try to freeload on this event is enormous," said Tim Jones, a partner at lawfirm Freshfields Bruckhaus Deringer, official legal services provider to London 2012.
Unlike events such as the soccer World Cup, there is no advertising allowed inside Olympic venues. Sponsors get protected rights to advertise within a few hundred metres of each venue during the Games.
Jones said that the level of sponsorship which London had attracted showed that companies felt they would get value for money in London.
"That (brand) protection is a fundamental part of the sponsor's willingness to invest. Through the downturn in 2007 and 2008, sponsors have stuck with it and continued to come forward," he told Reuters.
The lastest guidelines referred to billboards and bodies but Jones believed that adequate legislation was in place to thwart online ambush marketing.
The aim was not to punish people chatting on Facebook about the result of the 100 metres, but to prevent companies from falsely claiming an association with the Games.
"The immediate focus of these regulations is on the physical stuff, but the 2006 Olympics Act legislation will capture violations on social media."
By Keith Weir
© Thomson Reuters 2023 All rights reserved.