More secure about jobs, Americans go shopping
By Ellen Wulfhorst
NEW YORK (Reuters) - Airplane mechanic Sal Rallo bought a video game this week for his sons, a purchase he would not have made a year or two years ago when he feared losing his job.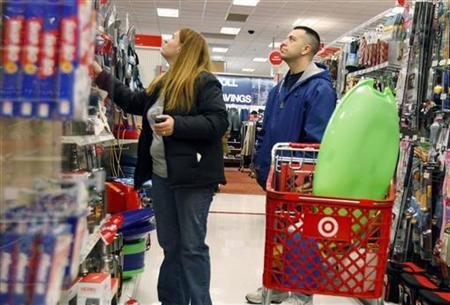 "I would have held off. Now I'm a little more confident," said Rallo, who lives in Queens, New York and works for American Airlines.
U.S. consumers such as Rallo boosted spending for a fifth straight month in February, government figures showed. Spending typically accounts for two-thirds of U.S. economic activity and is closely watched as a sign of fiscal recovery.
That spending is fueled by a growing sense of job security among U.S. workers, experts say, but it is guarded and limited, as Americans emerge cautious from the worst economic downturn since the 1930s.
"If I had to treat myself to a whole complete new outfit, I would do it now. But spending a lot more than that? No," said Rallo. "We purchased a car a couple of years ago. Would I do it again now? No."
The low-end discretionary spending is largely confined to people who have jobs and feel better about keeping them rather than unemployed workers finding new jobs, experts say.
"We're starting to see an element of people who are employed, who have dodged the bullet and who are feeling a little bit more confident that they don't have to look over their shoulder for the hatchet," said Joshua Shapiro, chief U.S. economist at MFR Inc. "It's people saying, 'I don't think I'm getting fired. Let's go blow 50 bucks at Applebee's (restaurant).'"
The stabilization of job losses is feeding that confidence, economists say. The closely watched employment report due on Friday 2 April is expected to show employers added 190,000 jobs in March after cutting 36,000 positions in February. Reuters forecasts the unemployment rate to hold steady at 9.7 percent.
"When you go from losing 500,000, 600,000 jobs a month on payrolls to basically stability, ... it gives the people who still have a job more confidence that they will continue to have a job," Shapiro said.
"I CAN BUY SOME MORE THINGS"
New-found job security is letting Scott Sheidlower, a librarian at the City University of New York, feel comfortable about spending, at least on a small scale. Rather than constantly worry the state-funded school will not renew his contract, he just moved into a secure tenure position.
"I actually bought a real wallet in Macy's. Usually I've been buying the $5 wallets on the street which fall apart," he said, shopping this week in Manhattan. "I finally feel like I can buy some more things."
Consequently, low-end retailers have been performing well. Companies such as Nike Inc. , the largest global sports gear maker, and electronics giant Best Buy Co. are seeing strong results as U.S. consumers return to the stores.
Much of the consumer spending is pent-up need, warned Jim Taylor, vice chairman of the Harrison Group.
"People didn't buy cars for a couple of years. People didn't buy furniture. People didn't replace toilets," he said. "But nobody should mistake this for a return to a want-based economy. Now it is very much a highly thought-out decision."
Such is the case with Janice Chingos, a former flight attendant who shopped this week in New York and said: "I'm still not buying things I don't need."
"What we went through has changed everybody's attitude about buying things in general," she said. "But eventually you have to buy something, with the change of season and because it's on sale and it's spring and everything looks nice."
"I'M MORE CONFIDENT"
Recession-worn consumers have become better shoppers who compare prices, look for discounts, wait for sales and take advantage of promotions, Taylor said.
"Everything can be bought in some way or another through resourcefulness at a substantial discount," he said.
Larry Li, who works in the credit card division at Citibank, said his family is spending more to take advantage of cut prices.
"We think that things are so cheap so why not just buy them?" he said, adding, "Right now I'm more confident, more likely I will keep my job. Generally speaking, I feel the economy is better than last year."
Consumer spending has traction to help drive economic recovery but will be slowed by U.S. consumers still burdened by oversized debts, experts said.
Nor are consumers free from fears of job loss, said Laura Russo, a stay-at-home mother who lives in Queens, New York, with her husband, a pharmaceutical sales representative for GlaxoSmithKline.
"My husband made it through four layoffs, but his company is planning to do more," she said. "He never feels 100 percent secure with his job.
"So I'm pretty cautious about what I spend. I really have to have a reason," she said.
(Editing by Cynthia Osterman)
© Thomson Reuters 2023 All rights reserved.