Model-turned-author Tara Moss confronts danger for her novels
SYDNEY (Reuters Life!) - For model-turned-author Tara Moss, being set on fire and choked into unconsciousness is all part of a day's work.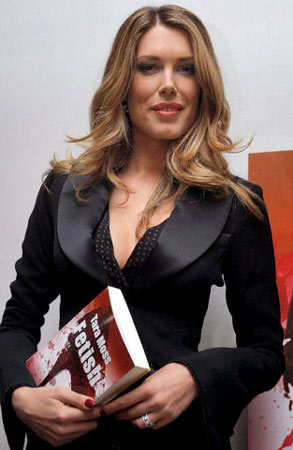 Tara Moss
Moss, 35, who spent 10 years on the international modelling circuit after being discovered in her home town of Victoria, Canada, says she needs to experience first-hand the events that she incorporates into her crime novels.
For her latest and fifth book "Siren", out this month, Moss set out to get herself choked unconscious at the hands of Ultimate Fighter "Big" John McCarthy.
"This was probably the most moving and physiologically intense experience I have ever had for research ... as every instinct in my body told me that I was dying," Moss told Reuters.
"But I woke up with an eerily euphoric sensation and adrenaline pumping through my body. I now have a better understanding what people are seeking when they engage in auto-erotic asphyxiation. I could not have written this scene in my book without this experience."
Being set on fire while wearing flame-resistant clothing was a doddle compared to being choked nearly to death, she said. "It was fascinating because for the first eight seconds you don't feel the heat," Moss explained.
On top of those experiences add shooting fire arms, flying over the Sydney Opera House with the crack air force team the RAAF Roulettes, earning a private investigator licence, handling snakes, and spending days on end in morgues and courtrooms.
Moss said her determination to thoroughly research issues for her books, despite potential danger, did surprise some people because of her looks and stereotypes attached to models.
"I have experienced times where my appearance has made people underestimate me and they have told me that later," said Moss, who has lived in Sydney for about 13 years.
ESCAPE VALVE
Moss admits that after modelling for years, it was tough at first to convince people to take her, and her writing career, seriously. But for her, writing has always been second nature.
At the age of 10 she was writing Stephen King-type novellas for her school class mates, full of murders and gore, and continued to write daily when she was modelling.
"Despite my appearance I am quite an introverted person and I think a lot of introverts or creative people have some outlet that they tap into from an early age and for me that escape valve was writing," she said.
Moss never finished school. After starting modelling with a local shopping mall at 14, she went fulltime at 16, moving to London after the sudden death of her mother from cancer.
"I couldn't stand the idea of the same school and same classroom after my mother died and I needed to go out and discover myself so I moved to London," said Moss.
She modelled until her first novel, "Fetish", was published in 1999. Now her novels are published in 17 countries.
"Modelling isn't as glamorous as people think as it is just a job and a job that does not really suit creative people as you are a mannequin and not the creative power," she said.
Moss is working on a sixth novel, again featuring her main character Makedde Vanderwall, who is also a former model with brains and PhD who has moved into a new career. Is she Moss?
"No, I don't identify as being her but I do, however, think of her as blood, as a kind of fictional sister," said Moss.
"My focus has been crime and Makedde and her story but it will not go on indefinitely. I don't know that I would leave crime behind because it is a genre I love but it's not going to stop me writing other genres."
By Belinda Goldsmith
© Thomson Reuters 2022 All rights reserved.