Luxury earnings forecasts to rise according to Julius Baer manager
By Astrid Wendlandt
ZURICH (Reuters) - Some of Europe's top luxury stocks may have doubled in value from their March 2009 nadir but their ascent should continue, boosted by upgraded earnings forecasts, a Julius Baer fund manager said on Friday 19 March.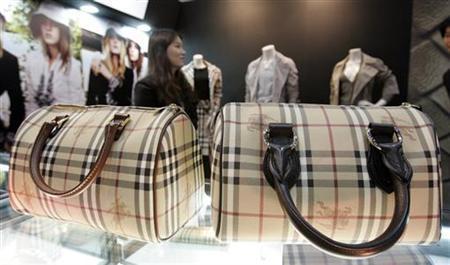 Burberry
(BRBY.L),
Richemont
(CFR.VX) and
Swatch
Group (UHR.VX) touched a one-year peak on Thursday 18 March, but expectations about the sector's recovery are still too low, Scilla Huang Sun, head of Julius Baer's luxury brands fund, told Reuters.
"Luxury valuations have not peaked yet," Huang Sun said in an interview in Zurich. "There is still a lot of potential for valuations ... I expect some earnings upgrades."
The Julius Baer luxury brands fund has around 40 million euros ($54.5 million) under management.
Investor sentiment toward the luxury goods sector was boosted this month by surprisingly good U.S. retail figures, upbeat comments from fashion executives at Milan, Paris fashion shows and data showing the watch industry was on the mend.
Swiss watch exports, one of the biggest pillars of the European luxury industry, were up for the second consecutive month in February, up 14.2 percent against last year, after a 22.3 percent slump last year which brought them to 2006 levels.
Consumers, spooked by concerns about jobs and poor economic prospects, appear to have started spending again, boosting luxury goods companies' valuations.
The average price-to-earnings ratio on current year forecasts for luxury stocks now hovers around 16 to 18 times against 10 to 13 last year.
Luxury goods stock tend to underperform indexes in downturn and outperform in upturns.
Among watch and jewelry companies, Huang Sun said she favored Swatch, Richemont and Tiffany & Co (TIF.N) because the three companies had solid growth strategies and brands that offer value for money.
Richemont's Cartier and Tiffany benefited from having enriched their entry-level product offering, she said, while Swatch refrained from laying off staff, putting it in a strong position to benefit from the upturn.
She said Burberry, best known for its trenchcoats, appeared to be a tightly managed group with the right balance between menswear and womenswear and well-developed product categories, including perfume and accessories.
"Burberry is a lifestyle brand which means you can have many product categories in it," Huang Sun said. "Also, it is a very recognizable brand which is important for growth in emerging markets."
Julius Baer's top stocks exposure includes Swatch Group, LVMH (LVMH.PA), L'Oreal (OREP.PA), Diageo (DGE.L) and Richemont.
(Editing by David Holmes)
($1=.7346 Euro)
© Thomson Reuters 2023 All rights reserved.