Lohan's celebrity catwalk dismays fashion world
LOS ANGELES, Oct 11, 2009 (AFP) - Lindsay Lohan's widely panned appearance on Paris catwalks for luxury label Ungaro could signal a shift away from high end brands seeking creative input from celebrities, analysts say.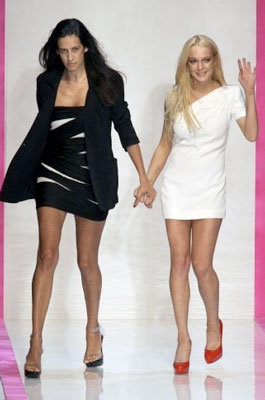 Photo : AFP
Lohan was hired by Ungaro in September as an "artistic advisor" to the fashion house's new chief designer
Estrella Archs
, with a brief to give the label a "cooler" look, according to president Mounir Moufarrige.
But the alliance got off to a catastrophic start with global critics trashing the brightly colored collection unveiled at Paris Fashion Week as a gaudy series of sartorial faux pas.
"When Lohan came out for a runway bow, her eyes were full of tears. And it's easy to see why," the Los Angeles Times sniped.
"After all the hullabaloo over her appointment a month ago, with some fashion insiders suggesting it was an insult to anyone who had ever really worked in design, it had to have been the walk of shame to end all."
The universal savaging has left analysts asking if Lohan's appointment and subsequent ridiculing may have marked a watershed moment for the industry.
While high street labels in Europe and the United States have forged a series of successful collaborations with the likes of Madonna and Kate Moss, Lohan's foray into fashion appears to have been an unmitigated failure.
Steven Faerm, director at the prestigious Parsons The New School for Design in New York, said he believed the trend towards fashion labels seeking celebrity input could be a sign of the recession-hit economy.
"While fashion has certainly gone in the direction of using celebrities for selling fashion, I think we very well may have seen the straw that broke the camel's back with the appearance of Lohan for Ungaro," Faerm told AFP.
"I think it is indeed an indication that some houses are doing all that it takes to stay afloat in this difficult economy.
"I personally find it a sad commentary on our society that a product can sell simply because a consumer has an affinity for a personality associated with the product rather than the viewing the product for what it truly is.
"We live in a world today where you can do anything once you brand your name, no matter what your qualifications are, and I find that unsettling."
Wendy Bendoni, fashion director of Stylelens.com forecasting website, said meanwhile that as soon as Lohan's appointment was announced "you could hear everyone who knows anything about fashion saying 'what were they thinking?'"
"Usually 'artistic advisor' is something you hear if you were creating a private label for Macys -- not a collection for Paris Fashion Week," she said. "This isn't Target, Walmart or JCPenny's -- this is Fashion Week in Paris."
"If anything this really hurt Ungaro relationship with their high-end luxury customers. Miley Cyrus wouldn't even come to the show, even though Lindsay kept tweeting for her to 'please come.'
"I just feel bad for the poor designer who took the job in the first place."
Farah Chajin, an instructor of apparel design at California State University, said any collection would be judged on the designs themselves.
"The collection by Ungaro collaboration with Lohan was not successful, it lacked creativity and innovation to the fashion world," Chajin said.
Nevertheless celebrities will continue to play a role as figureheads for fashion brands. "To have Nicole Kidman as the face of Chanel adds glamour given the image she presents," Faerm said.
"She was also hired to be 'the face' of the brand rather than have an active, creative role in the collection's development.
"I think the backlash to Lohan is the idea that she does not elevate the brand's heritage and does not elevate the creative process since she does not have proper training for such a monumental task."
Bendoni echoed that view.
"I get the idea of celebrities endorsing brands but creating brands is a dangerous ground," she said. "Do you really think all these celebrities are designing their own lines?
"I think fashion should remain for the most part up to designers to create. We need more Marc Jacobs, Tom Fords, Stella McCartneys, Donatella Versaces, Karl Lagerfelds..."by Paula Bustamante
Copyright © 2023 AFP. All rights reserved. All information displayed in this section (dispatches, photographs, logos) are protected by intellectual property rights owned by Agence France-Presse. As a consequence you may not copy, reproduce, modify, transmit, publish, display or in any way commercially exploit any of the contents of this section without the prior written consent of Agence France-Presses.