Indexes gain as oil ends off high, Cisco jumps late
By Amanda Cooper
NEW YORK (Reuters) - U.S. stocks ended marginally higher on Tuesday after oil prices pulled back from a session high near $60 a barrel, offsetting a sell-off in the tech sector after National Semiconductor Corp. lowered its outlook.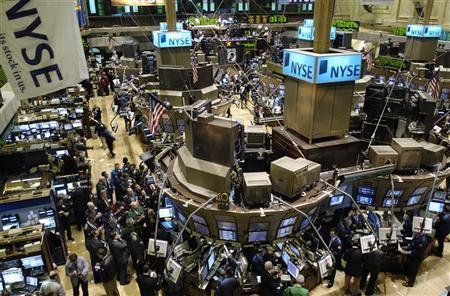 A better-than-expected outlook and earnings from Cisco Systems Inc. after the bell drove the network equipment maker's shares sharply higher. That could give the technology sector a boost in Wednesday's session.
Oil futures prices ended only modestly higher after climbing to a NYMEX session peak of $59.99 a barrel as a cold front swept across the northeastern United States. Oil prices gave up more than $1 of that gain, relieving investors' concerns about higher energy costs and inflation.
Earlier, investors sold technology stocks after microchip maker National Semiconductor reduced its quarterly revenue forecast. But the impact of that sell-off on the broad market was limited by strong profits from cosmetics marketer Avon Products Co. , which supported the S&P 500 and helped it close with a marginal gain.
"Oil's definitely come off, so that's added a bit of spark to the market," said Anthony Conroy, head trader at BNY Brokerage, a unit of Bank of New York, in New York.
"This afternoon, it looks like some people are selling some of those yield stocks -- utilities -- and taking on some of the ones that have been beaten up and those are the tech stocks," he said.
The Dow Jones industrial average .DJI rose 4.57 points, or 0.04 percent, to end at 12,666.31, while the Standard & Poor's 500 Index .SPX added 1.01 points, or 0.07 percent, to finish at 1,448.00. The Nasdaq Composite Index .IXIC inched up just 0.89 of a point, or 0.04 percent, to close at 2,471.49.
Crude oil for March delivery CLH7 gained 14 cents to settle at $58.88 a barrel on the New York Mercantile Exchange.
CISCO'S PLEASANT SURPRISE
After the bell, Cisco's stock jumped to $28.70 after the network equipment maker said it expected fiscal third-quarter revenue to grow by 19 percent to 20 percent. For details please see ID:nN06475212 The stock closed at $27.28 on the Nasdaq.
During regular trading, though, National Semiconductor's shares fell 2.7 percent, or 64 cents, to $22.68 on the New York Stock Exchange after it cited lower-than-expected shipments, particularly to Asia, as one reason why it cut its quarterly revenue forecast. For details, see ID:nN05483078 Its decline gave investors a reason to sell other semiconductor stocks such as rival Texas Instruments Inc., down 1.2 percent, or 37 cents, at $31.22 on the NYSE.
The Philadelphia semiconductor index finished down0.54 percent, after an earlier decline of over 1 percent.
In contrast, shares of dominant chip maker Intel Corp. gained 0.1 percent, or 3 cents, to $21.31 on Nasdaq.
In the utility sector, shares of Duke Energy Corp. , one of the largest U.S. power companies, dropped 1.1 percent, or 23 cents, to $20.06. Earlier on Tuesday, Duke Energy reported a lower quarterly profit. ID:nN06202498
The Nasdaq's biggest gainers included online marketplace eBay Inc. , up nearly 2 percent, or 60 cents, at $32.85 a day after launching a new service for U.S. auto dealers.
Shares of Google Inc. , the Web search leader, gained 0.9 percent, or $4.32, to $471.48 and also gave a major boost to the Nasdaq 100 .
AVON CALLING
One of the S&P 500's top performers was Avon, the world's largest direct seller of cosmetics and beauty products. Its stock jumped almost 10 percent, or $3.38, to $38.00 on the NYSE, after its earnings topped Wall Street's estimates. ID:nN06202613.
A rally in Citigroup , the largest U.S. bank, helped both the Dow and the S&P 500. Citigroup's stock rose 0.4 percent, or 20 cents, to $54.95. The S&P index of financial services stocks rose 0.48 percent.
"You've had banks under pressure the last couple of days, people talking about subprime lending ... that seems to have shaken off a bit," said Victor Pugliese, director of listed equity trading at First Albany Corp. in San Francisco.
General Motors Corp. helped lift the Dow late in the day after saying it will pay a first-quarter dividend of 25 cents a share. Its stock climbed 2.2 percent, or 72 cents, to $33.43 on the NYSE after the dividend announcement. Investors had expected that the automaker might lower its dividend for the quarter. For details please see ID:nWNAS9831
Earlier, Federal Reserve Chairman Ben Bernanke addressed a meeting in Omaha, Nebraska, but he did not discuss the economy or the outlook for U.S. interest rates.
Trading was moderate on the NYSE, with about 1.48 billion shares changing hands, below last year's estimated daily average of 1.84 billion, while on Nasdaq, about 2.22 billion shares traded, above last year's daily average of 2.02 billion.
Advancing stocks outnumbered declining ones by a ratio of about 2 to 1 on the NYSE and by about 4 to 3 on Nasdaq.
© Thomson Reuters 2023 All rights reserved.