In beauty-obsessed Rio, free procedures fuel dreams for poor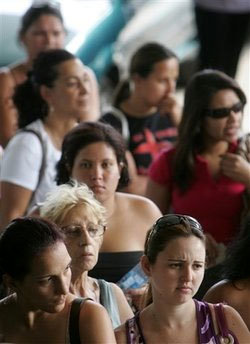 Women line up to be a attended outside Brazil's Society of Esthetic Medicine clinic in Rio de Janeiro - Photo : Ricardo Moraes/AP
RIO DE JANEIRO, Nov 18, 2008 (AFP) - In Rio de Janeiro, one of the most glamorous spots on Earth where year-round beach culture has everyone vying for attention, the quest for a perfect body now can be an obsession indulged by even the city's poorest of poor.
Everyday on a recent week, hundreds of underprivileged locals descended from shantytowns ringing the city to line up outside a revolutionary medical center that, to some, offers free cosmetic surgery -- a dream come true for people who normally can only think of putting food on the table or finding work.
For those who can prove they make 500 reais (230 dollars) or less per month -- just over seven dollars a day -- the center doles out skin-smoothing Botox treatment and laser hair removal like candy.
The only catch in this gentle competition for the prize, other than a meager salary: standing in line for hours on end with everyone else.
"I arrived yesterday at 23:00 pm and slept on the sidewalk for one of the first numbers," Vander Rodrigues, a 28-year-old out-of-work hairdresser and transvestite, told AFP on Thursday, referring to the numbers given to those in line who await a promised turn.
Vander, who said he "dreams of laser hair removal and removing some varicose veins," has plenty of confidence in the Brazilian Society of Cosmetic Surgery (SBME) program.
Every day from 8:00 am to noon, 200 numbered slips are distributed to the hundreds of people who flock to the clinic. An overwhelming majority are women.
The program stemmed from an initiative launched by Brazil's 82-year-old Ivo Pitanguy, known as one of the 20th century's foremost plastic surgeons.
One day each week a team of Pitanguy's staff and students perform dozens of reconstructive and aesthetic operations on the poor at the public hospital Santa Casa de Rio.
But there are not too many reconstructive surgeries for cleft-lips and other such problems in the SBME outpatient clinic, where the aim for most -- in the country that brought the g-string to the beach -- is to look and feel no less than a movie star.
Or at least a passable soap opera actress with curves that stop traffic.
Decked-out in a flowery mini-skirt and denim jacket, clasping a light-colored handbag, Vander proudly holds the slip numbered 15, which will let him become "happier" and "feel better".
-- No one here has the means to afford such care --
---------------------------------------------------
"It's been a very long time I've wanted to get laser hair treatment, especially on my face," says Vander. "I waste crazy amounts of time with tweezers and magnifying mirror," he says with a huge smile.
Ana Lucia Cortes, a 46-year-old school cleaning lady, also arrived outside the clinic the night before, but only "by chance", she said.
At Women's Rights court to begin divorce proceedings the day before, the court's concierge had suggested: "Now that you're going to get a divorce, why don't you stand in that line to be more beautiful?"
After a night of sitting on a piece of newspaper, Ana Lucia was given the number 24. She wants to say goodbye to cellulite, remove varicose veins and maybe later get a tummy-tuck.
"This is a unique opportunity," she says. "No one here has the means to afford such care."
When local television had announced the new program, the clinic was inundated with responses.
After an explanation of the treatment offered, and an interview with a psychologist, Ana Lucia, along with Vander, are all set to return on March 16 to begin their transformation.
Doctors reject allegations that the patients are guinea pigs for experimental procedures, and state that only beauty is on offer.
Only superficial treatments such as skin care are given at the SBME clinic for free -- unlike Pitanguy's Santa Casa de Rio initiative, where the underprivileged enjoy the chance of going under the knife for surgeries from liposuction to breast implants to buttock lifts.
Doctor Nelson Rosas, director of the SBME's study and research center, told AFP that teaching their cosmetic surgery students through practicing on the needy was a "philanthropic activity".
The clinic "aims to train plastic surgery specialists for the benefit of the poor," he says.
"We have agreements with laboratories and a private university that we sponsor. Some 180 doctors are participating in this initiative."
From November 10 to 19, 1,800 more people will be selected to undergo free treatment.
Since the program's beginning in 1998, nearly 17,000 people have used the service.
And even if the care offered is but skin deep, the results are evidently deeply appreciated by patients.
Denise Vieira, 38, has a fresh outlook.
"Before, when I smiled, I had horrible crows feet around my eyes. In four sessions of Botox injections, it has already improved a lot," she says.by Claire de Oliveira
Copyright © 2021 AFP. All rights reserved. All information displayed in this section (dispatches, photographs, logos) are protected by intellectual property rights owned by Agence France-Presse. As a consequence you may not copy, reproduce, modify, transmit, publish, display or in any way commercially exploit any of the contents of this section without the prior written consent of Agence France-Presses.