Gem tones sparkle and shine at NY fashion shows
Feb 16 - Recession-rattled shoppers are not likely to splurge on amethysts or rubies, but designers are waging that consumers will buy jewel-tone fashions to satisfy their craving for luxury as they start to spend a little more.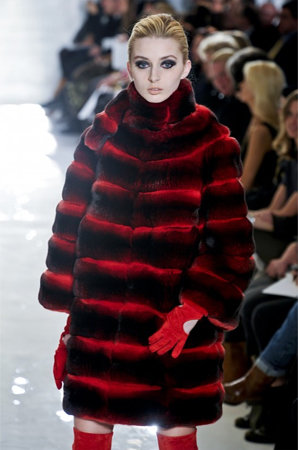 Chado Ralph Rucci A/W 2011-12 at NY Fashion Week (photo by Pixel Formula)
Gem colors weighed heavily on the runways at New York's Fashion Week, where designers are previewing their looks for next fall and winter. The biannual event wraps up on Thursday.
Regal, elegant tones of rubies, amethysts, emeralds and sapphires unveiled by several influential designers should whet consumers' appetite, experts said.
"Color always motivates people to buy," said Robert Burke of Robert Burke Associates, a luxury retail consulting firm. "When you have a very black or dark season, people think 'Do I already have a black pair of pants. Do I need another pair?'"
Opulent hues in particular will inspire spending, he said.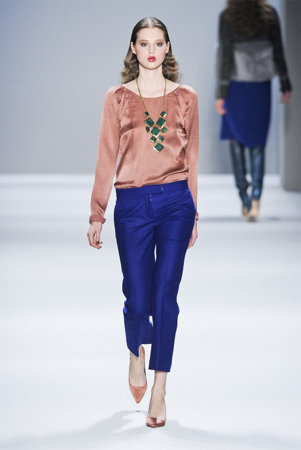 Rebecca Taylor A/W 2011-12 at NY Fashion Week (photo by Pixel Formula)
"People have felt the recession and felt the need to pull back," Burke said. "It's a kind of repressed desire to have color and to have more luxurious fabrics."
Luxurious looks were evident in collections by
Carolina Herrera
and
Diane von Furstenberg
, in hand-embroidered florals at
Preen
and in flowing skirts by
Tracy Reese
. Rich sapphires starred in looks by
Rebecca Taylor
,
Nicole Miller
and Yigal Azrouel, and jade glowed at
Cynthia Rowley
's show.
Ruby
reds stood out at
Michael Kors
and Chado Ralph Rucci.
"People are starting to spend a little bit of money again," said David Zyla, author of "Color Your Style." "I think we're saying, 'If I'm spending on that garment, I want it to look rich. I want it to look substantial.'"
People instinctively look to color to lift their spirits, said Lea Eiseman, director of the
Pantone
Color Institute.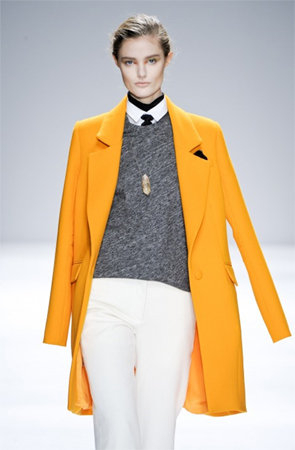 Yigal Azrouel A/W 2011-12 at NY Fashion Week (photo by Pixel Formula)
"Because we're going through this time of people being concerned about the economy and jobs, it's really smart for the designers to show colors that have that effect on people," she said.
Jewel tones allay the urge for elegance without the expense, she added.
"The amethyst satin blouse satisfies a need. It looks like something precious," she said.
More color lies ahead, said David Wolfe of the Doneger Group retail consultants. He predicted American fashions are emerging from a gloomy palette.
"We're about to see this big explosion of color over the next year. Color is going to become trendy," he said.
(Editing by Mark Egan and Eric Walsh)
© Thomson Reuters 2023 All rights reserved.