Eyewear maker Safilo cuts jobs, cash needed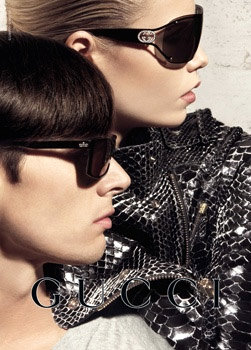 Hugo Boss eyewear, l'une des marques développées par Safilo
By Marie-Louise Gumuchian
MILAN, March 20 (Reuters) - Italy's Safilo (SFLG.MI) is laying off workers and cutting production facilities, worrying the government as unemployment soars, and extra cash is looking like an urgent priority for the maker of Gucci sunglasses.
Safilo, one of the world's biggest makers of glasses and sunglasses, had net debt of 570 million euros at the end of last year and could need a capital injection of about 250 million euros, some analysts say.
Safilo said this week it was reducing production facilities in Italy and Slovenia, shutting down an Italian plant and laying off 1,250 people. It said it is shifting some production operations to China, but wouldn't lose its "Made In Italy" label.
The layoffs -- about 800 in Italy -- prompted Italy's Industry Ministry to say it was following the matter.
"The government will do its part," Industry Minister Claudio Scajola said on Friday, adding the government was proposing a meeting, just as data showed Italian unemployment rose to its highest level for over two years in the last quarter of 2008.
The ministry had to appoint administrators for fashion company IT Holding (ITH.MI) last month.
As the economic crisis bites into demand, Safilo is bracing itself for a tough year and expects first-quarter sales to be down 10-15 percent.
Italian eyewear production has fallen more than 10 percent during the first quarter, according to industry body Anfao.
"One of the few great assets of Italy is the eyewear industry ... I really hope the industry comes out in good shape," Andrea Guerra, CEO of market leader Luxottica (LUX.MI), told a recent presentation.
"In the next two, three, four months, some things will happen in the industry around the world ... There are many (players) which are not healthy today, so let's see what happens."
"Safilo holds a wealth of production and distribution know-how worth preserving," UniCredit said in a note, adding that it felt a capital injection would help the company.
Safilo closed 2008 with a 71 percent fall in net profit to 14.6 million euros. It has a market value of 106 million euros.
"The situation at Safilo seems to be deteriorating rapidly and is looking increasingly tough," a Deutsche Bank note said.
Safilo's main shareholder, Only 3T, which is controlled by Chairman Vittorio Tabacchi's family, said last week it was in talks with potential investors.
Italian daily Il Sole 24 Ore has reported private equity firms CVC, Bain Capital and PAI could invest in Safilo. CVC and PAI declined to comment. Bain did not immediately comment.
"Even though we appreciate the restructuring plan, we still believe a capital injection (would) be needed (ca. 250 million euros)," a Banca Leonardo note said. "We believe there is very low visibility on market conditions and on the sustainability." (Additional reporting by Simon Meads in London and Megan Davies in New York, editing by Will Waterman)
© Thomson Reuters 2023 All rights reserved.