Don't worry, be happy: Brazil defies global gloom with fashion
SAO PAULO, Jan 23, 2009 (AFP) - The world may be becoming a glummer place with the global crisis, but in Brazil, Latin America's biggest fashion show is showing there's still room for a little happiness in the wardrobe.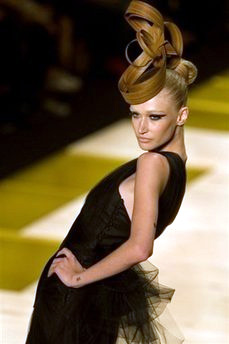 A model presents an outfit by Andre Lima during the 2009 Autumn-Winter collections of the Sao Paulo Fashion Week - Photo : Nelson Almeida/AFP
The Sao Paulo Fashion Week, a showcase of the top level of Brazil's 50-billion-dollar fashion industry, struck the theme "Brazilianness" this year -- which in short meant capturing the innate joy of this tropical nation and sending it swaying down the runway.
Thirty-eight houses unveiled their 2009 winter collections.
Many hewed to the blacks and grays favored by European and US stylists so admired by Brazil's moneyed elite -- colors and which are likely to serve as a statement on the world economy for some time to come.
But, true to theme, they also revealed creations full of color, capturing the optimistic spirit of a country that has raised its global profile amid economic progress.
In a way, the balance between dark and light, hue and shadow, spoke to Brazil's ambitions to leverage its emerging market clout, resourcefulness and imagination to take its fashion international.
Cori's outfits, designed by Rita Comparato and Dudu Bertholini, married the dichotomy by pairing, for example, a satin black power dress with a red belt that looked to be a bow on a present.
Another number matched a tailored high-waisted grey flannel jacket and black turtleneck not out of place in a Paris office with a cheery orange leather skirt that could only come from a perma-smile southern clime.
Osklen, a house more apt to win the favors of mode-hungry Manhattanites, stuck to alternating black and beige in a relaxed yet muted collection.
Its male and female models were accessorized with thick-rimmed spectacles and stony expressions in a nod to the bleak horizon set before the luxury trade here, and everywhere.
Most colorful was Fause Haten, playing up the romance of sheer trousered ensembles with red and orange dominating, while adding an eye-catching flourish of shiny metallic galaxies down legs and across waists.
The outfits may still have some way to convince foreign fashion buyers, some of whom said Brazilian styles and finishes had a little way to go before its clothes could find a worldwide following.
But Sao Paulo's sophisticated jet-set was sold.
"You have this reference of colours, of rivers, or nature, of green, of palm trees," said Melina Valente, a 34-year-old art show producer attending the runway shows.
It wasn't all a tribute to Brazil's bucolic extravagances, though.
"In Sao Paulo, you see fashion, it's like in Milan," she said.
Maria Prata, the fashion editor for Vogue Brazil, said the show's salute to "Brazilianness" was as much a celebration of the nation's resourcefulness as its exuberance.
That character -- of finding a way around every obstacle -- would be a credit to the country's fashion industry, and its economy generally, she said.
"If someone says you cannot do that, you don't stand there and say 'OK I can't do that,' you always try to do it, you keep trying, and you keep going and you keep walking," she said.
"And I think that's what we have the best: We're trying, and we'll keep trying."

by Marc Burleigh
Copyright © 2022 AFP. All rights reserved. All information displayed in this section (dispatches, photographs, logos) are protected by intellectual property rights owned by Agence France-Presse. As a consequence you may not copy, reproduce, modify, transmit, publish, display or in any way commercially exploit any of the contents of this section without the prior written consent of Agence France-Presses.