Chinese outspend Russians in France
PARIS, Jan 21 (Reuters) - Tourists from China spend more in French boutiques than visitors from Russia, and they tend to splash out on fashion goods much more than on jewellery or perfume, a study released on Thursday 21 January showed.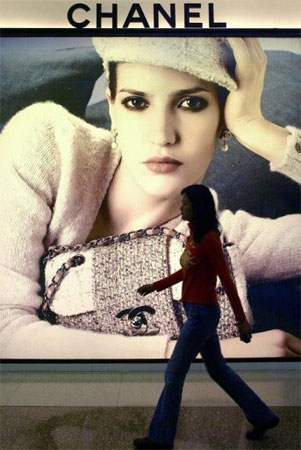 Photo: AFP
Purchases made by the Chinese represented 15 percent of all total spending by tourists in France in 2009 and their total bill rose 47 percent against 2008, the VAT payback services provider Global Refund said in a report.
The finding cements the view that China is the undisputed leader in terms of growth for the luxury goods industry, a trend highlighted this week by the first sales figures published by luxury goods groups Richemont (CFR.VX), Swatch (UHR.VX) and Burberry (BRBY.L).
The Chinese are the No.1 spenders in France, having disbursed 155 million euros ($220.2 million) in 2009, followed by the Russians who spent 112 million euros and the Japanese who spent 99 million euros, the Global Refund study said.
Citizens from the United States came in fourth, having spent 64 million euros last year.
But if the Chinese together spend more, the value of each individual basket belonging to Ukrainians is bigger at 1,481 euros, against 1,071 euros for the Chinese.
The Saudis come in second place with a basket worth 1,435 euros, itself down 15.8 percent against 2008, while the Russians' total individual bill fell on average by 7.7 percent to 1,055 euros.
Travel operators say they are developing more and more shopping services for Chinese visitors, and Paris fashion hot spots such as Printemps and Galeries Lafayette have become increasingly thronged with Chinese tourists.
The Global Refund study showed that 87 percent of the Chinese's average total bill was on fashion items, including shoes and handbags, and 93 percent of their shopping was done in and around the French capital.
But comparatively, the Japanese spend 96 percent of their total shopping budget on fashion, it added.
Russian tourists, who were the top spenders in France in 2008, cut their purchases on jewellery and watches last year to 4,096 euros, down from 5,593 in 2008.
Global Refund, which helps tourists reclaim value-added taxes when making purchases abroad, also noted the strong presence of Indians and Ukrainians.
"The Ukrainians and Indians, who did not travel to France that frequently before, have discovered its cultural attractions, its fashion goods, jewellery and leather goods," Jean-Marc Leroy, head of Global Refund France said in the report.
"The emergence of new upper middle classes among these people has allowed French retailers to resist the crisis better." (Reporting by Astrid Wendlandt; Editing by Rupert Winchester)
© Thomson Reuters 2023 All rights reserved.