China retail sales growth slows, but consumers still confident
HONG KONG - China's retail sales growth slowed during the Golden Week break, but demand was better than expected, and a raft of other data helped provide a snapshot of increasingly important sources of demand in the world's second-largest economy.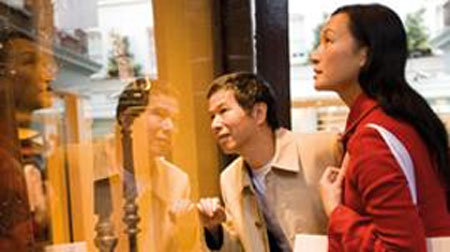 Les touristes chinois font partie de la clientèle étrangère la plus dépensière en France. Visuel: Global Bule
The Golden Week holiday at the start of October, when millions of people travel and spend more than usual, brings huge discounts and promotions as retailers battle for market share.
Overall retail sales grew 15 percent during the National Day holiday, which coincided with the Mid-Autumn Festival to provide a rare eight-day break. That compared with 17.5 percent growth last year during a seven-day holiday.
"On the bright side, the figures suggested that consumer sentiment on the mainland is still strong and people are willing to spend despite the slowing economy," said Alex Fan, head of research at ICBC International.
"Everything you do during the holidays is beneficial, like shopping, travelling, as well as food and beverages."
Revenues in the retail and catering sectors totaled 800.6 billion yuan ($127.4 billion), compared with 696.2 billion yuan a year ago, China's state television China Central Television said late on Sunday, citing official data.
The spending patterns of the country's 1.3 billion people are closely watched to gauge the health of China's economy as it switches from a reliance on exports to boosting consumer demand at a time when economic growth is slowing.
HOLIDAY SPENDING
Analysts said strong tourism data pointed to a shift in consumer spending toward leisure activities, helped by Beijing's move to waive toll fees for cars which saw millions of holiday makers take to the roads.
Shares of companies in related sectors rose ahead of the holiday in anticipation of strong sales, but eased when trade resumed on Monday as investors locked in profits.
Shares of China Travel International Investment Hong Kong Ltd eased 0.7 percent after the travel services provider hit a six-week high last week.
Airline stocks have gained over the past week, with China Eastern up nearly 8 percent, China Southern climbing nearly 6 percent and Air China rising 5 percent.
Shares of supermarket chain operator China Resources Enterprise Ltd fell nearly 2 percent on Monday after scaling a two-week high on Friday.
Tourism revenue at China's 119 major attractions rose 25 percent during the holiday, while the number of visitors increased 21 percent, a government industry regulator said. The number of railway passengers rose 9.4 percent to 60.95 million.
The data signaled tourists were shunning traditional locations such as luxury stores in favor of sightseeing.
"People who believe China is mired in a crisis, with slumping growth and falling stock prices, could be shocked by this strong tourism data," Bank of America Merrill Lynch said. "Chinese consumers are still relatively confident about China's economic fundamentals."
BACK TO BASICS
Home appliance retailers such as Suning Appliance Co Ltd and GOME Electrical Appliances Holding, seen by some as China's answers to Best Buy, had prepared goods worth 6 billion yuan ($954.67 million) for the holiday, including mobile phones, computers, and flatscreen TVs, Chinese media said.
Shares of the two companies, which also operate large e-commerce networks, eased on Monday after strong gains before and during the holiday. GOME dropped 4.6 percent after hitting a nearly 3-week high last week, while Suning was down 1 percent in Shenzhen after jumping 9 percent ahead of the holiday.
"It was the underlying growth momentum for basic needs which supported the growth," said Linus Yip, chief strategist at First Shanghai Securities.
Analysts said luxury spending and apparel were unlikely to have benefited much as shoppers preferred to buy high-end goods overseas to take advantage of lower taxes and weaker currencies.
"Our shop was very crowded during the same Golden Week last year but we have seen much fewer people this year," said Man Bihua, a 40-year-old saleswoman at Hola in Shanghai, which sells home and lifestyle products.
"Internet shopping and outbound tourism from Shanghai appear to be the main reasons, with online prices much cheaper than those products displayed here." ($1 = 6.2849 Chinese yuan)
(Reporting by Donny Kwok and Twinne Siu in Hong Kong; Lu Jianxin in Shanghai; Editing by Kim Coghill)
© Thomson Reuters 2023 All rights reserved.