Carrie Prejean fired as Miss California
LOS ANGELES (Reuters) - Beauty queen Carrie Prejean, who ignited a furor at the Miss USA pageant by taking a stand against gay marriage, has been fired as Miss California for violating her contract, officials said on Wednesday 10 June.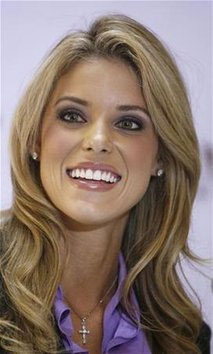 Carrie Prejean - Photo:REUTERS/Lucas Jackson
Prejean, who nearly lost her Miss California crown last month following the same-sex marriage flap and revelations that she had posed topless at age 17, failed to fulfill her duties, a pageant spokesman said.
"This was a decision based solely on contract violations including Ms. Prejean's unwillingness to make appearances on behalf of the Miss California USA organization," Keith Lewis, the pageant's executive director, said in a statement.
The pageant said owner Donald Trump, who had stood by Prejean, 22, despite the uproar over her same-sex marriage remarks and racy photos, backed her dismissal.
"I told Carrie she needed to get back to work and honor her contract with the Miss California USA organization and I gave her the opportunity to do so," Trump said in the statement.
"Unfortunately it just doesn't look like it's going to happen and I offered Keith my full support in making this decision," he said. "Carrie is a beautiful young woman and I wish her well as she pursues other interests."
Pageant officials said first runner-up Tami Farrell would assume the crown and take over Prejean's duties as Miss California.
Prejean's remarks at the Miss USA pageant came after judge and Internet gossip Perez Hilton asked her if every U.S. state should legalize same-sex marriage.
She responded that "in my country, in my family, I do believe that marriage should be between a man and a woman, no offense to anybody out there. But that's how I was raised."
Her views, and the strident reaction to them, came in the midst of heated nationwide debates over same-sex weddings which have recently been legalized in five U.S. states but banned in a California referendum in November.
Prejean defended her answer while acting as a fill-in host on the "Fox and Friends" program on the Fox network. She said her position was similar to that taken by President Barack Obama.
(By Dan Whitcomb. Editing by Xavier Briand)
© Thomson Reuters 2023 All rights reserved.